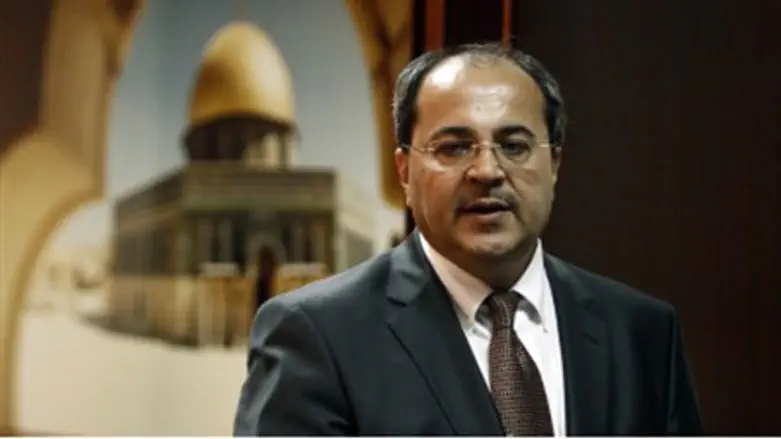 MK Tibi in Ramallah
Israel news photo: Flash 90
MK Ahmed Tibi, who is no stranger to controversy, may have outdone himself with a new Facebook post justifying a violent attack on IDF soldiers – and calling the soldiers war criminals.
"Throwing rocks at a military jeep full of armed soldiers who came to kill in a refugee camp (Kalandia this time, Jenin two weeks ago) is legitimate and is a form of self-defense," Tibi wrote.
"The occupation soldiers who invade refugee camp, shoot, kill 3 and wound many others in a deadly fashion – are committing a war crime," he continued.
He was referring to a recent incident in which IDF soldiers were mobbed as they entered Kalandia, north of Jerusalem, to arrest a suspect. Several hundred Arab men threw rocks, concrete blocks, firebombs and other objects at the soldiers.
Soldiers attempted to disperse the rioters using non-lethal methods, but when that failed, began to use live fire against rioters who were throwing firebombs. Three of the rioters were killed.
Tibi, who serves in Knesset with the Ra'am Ta'al faction, charged the IDF with having no real reason to enter Kalandia. Soldiers were in the area to arrest an Arab man suspected of involvement in terrorism.
"The arrests that the army carries out against those who were released in the Shalit deal are retroactive 'ego arrests,'" Tibi accused, referring to one of the dead men, Yunis Jahjouh, who was freed in 2010 as part of the deal between Israel and Hamas to release the captive soldier, which saw more than 1,000 terrorists released from Israeli prisons.
"It's regret by Israel's decision-makers over having been forced to release Palestinian prisoners, and it's a blatant post-facto violation of the agreement," Tibi fumed.
Tibi's post earned several hundred "likes" from his followers and over 100 responses. One of the responses with the most "likes" was from a user identifying himself as an Israeli Muslim, who wrote, "You will keep trembling and being afraid of [Islam] for your entire lives, because this religion shows the world who and what you are."
Another popular response was less sympathetic to Tibi's views. Israeli user Oren wrote, "Those who play with fire shouldn't be surprised when they get burned – or in this case, burn to death."