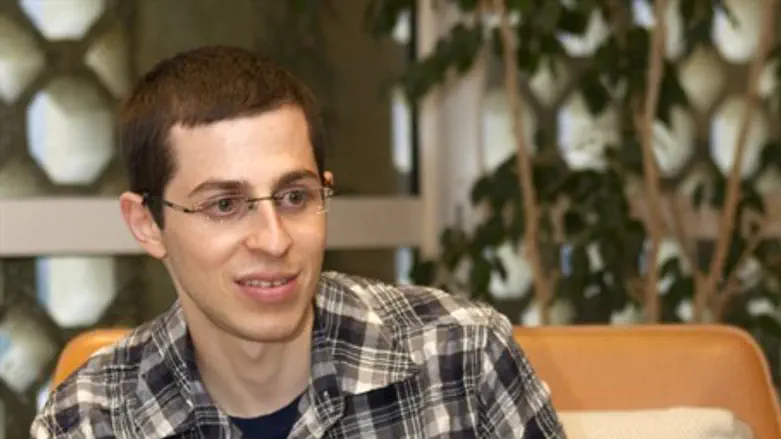 Gilad Shalit
Israel news photo: Flash 90
The United States has denied that a session of talks between Israel and the Palestinian Authority had been cancelled following the deaths of three rioters in the Kalandia refugee camp, north of Jerusalem.
"I can assure you that no meeting has been cancelled," State Department spokeswoman Marie Harf told reporters.
Her statement contradicted claims made earlier today by a PA spokesperson who said that "The meeting that was to take place in Jericho...today was cancelled because of the Israeli crime committed in Kalandiya today."
"What happened today in Kalandiya shows the real intentions of the Israeli government," said PA Chairman president Mahmoud Abbas's spokesman, Nabil Abu Rudeina.
Meanwhile, it has been revealed that one of the three terrorists killed in the early hours of this morning had been released in 2011, as part of the deal to free Gilad Shalit. 
Another one of the casualties was also a known terrorist, according to the Israeli security service, Shin Bet.
Yunis Jahjouh, 22, was killed along with  Rubeen Abed Fares and Jihad Aslan. He was 19 at the time of the "Shalit Deal," which saw more than 1,000 terrorists released from Israeli prisons.
Border Police had entered Kalandia to arrest an individual for suspected terrorist activities. Over a thousand Palestinian Arabs started rioting, and throwing rocks and firebombs at the Israeli personnel. 
The IDF force that was providing security for the arresting squad took action to extricate it, and when the forces felt actual danger to their lives, they opened fire at the attackers. The wanted man was arrested and taken to interrogation.