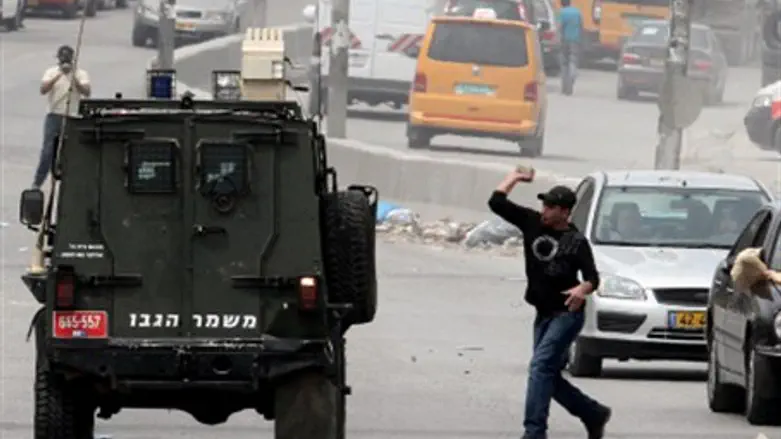 Riot at Kalandia
Israel news photo: Flash 90
Arabs continued to riot Monday afternoon after three rioters were shot in the Kalandiya refugee camp north of Jerusalem.
Rioting had broken out Monday morning, when Border Police were attacked with firebombs, rocks, and bottles. The officers warned off the attackers, but were ignored, and in an effort to defend themselves, opened fire as the crowd descended on them. On Monday afternoon, riots spread to Arab neighborhoods of Jerusalem, including near the Damascus Gate.
The IDF said Monday that the incident took place during nighttime activity by security forces for the arrest of a wanted man in Kalandiya. In the course of the arrest, "an extremely violent disturbance" developed, and "many hundreds" of Arabs attacked the IDF force.
The IDF force that was providing security for the arresting squad took action to extricate it, and when the forces felt a real danger to their lives, they opened fire at the attackers. The wanted man, a terrorist, was arrested and taken to interrogation.
The PA team to negotiations with Israel cancelled a discussion set for Monday in protest over the deaths. AFP quoted a top PA official as saying that "the meeting that was to take place in Jericho... today was cancelled because of the Israeli crime committed in Kalandiya today."
"What happened today in Kalandiya shows the real intentions of the Israeli government," said PA Chairman president Mahmoud Abbas's spokesman, Nabil Abu Rudeina. He called on the U.S. Administration to "take serious and quick steps" to prevent the collapse of peace efforts.
Egyptian Foreign Minister Nabil Fahmy condemned the incident. At a news conference in Ramallah, Fahmy said incidents like this make the chance of promoting a diplomatic agreement between Israel and the PA more distant.
credit: משה מזרחי - חדשות 24
credit: משה מזרחי - חדשות 24
credit: משה מזרחי - חדשות 24
credit: משה מזרחי - חדשות 24
credit: משה מזרחי - חדשות 24
credit: משה מזרחי - חדשות 24
credit: משה מזרחי - חדשות 24
Video of Kalandia riot: