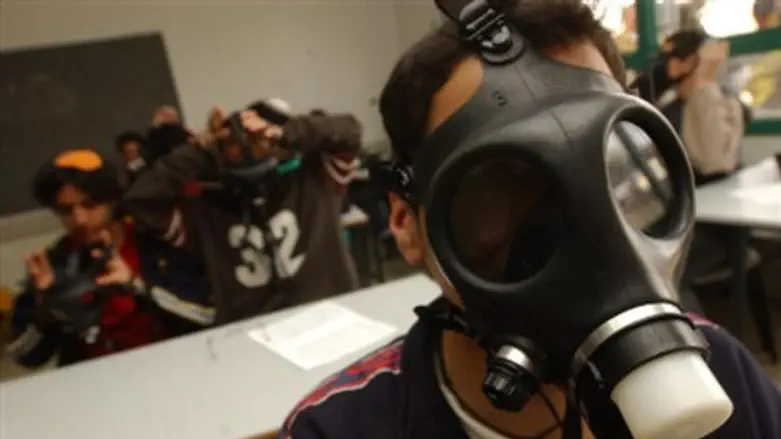 Gas masks in Israeli school drill (file)
Israel news photo: Flash 90
As tensions in Syria rise to unprecedented heights, Israelis, fearful of a possible chemical attack by its northern neighbor, have been flocking to gas mask distribution stations. Distribution of updated masks and chemical protection kits have been going on for several years, but on Sunday hordes of Israelis who have neglected to get their updated kits flocked to post offices, which are responsible for the distribution.
According to the Israel Post Office, requests for kits were quadruple those of a regular Sunday.
Israelis have also been cleaning out safe rooms and neighborhood bomb shelters, most of which serve older neighborhoods where houses were built without safe rooms. In many neighborhoods, the shelters have long been used for community activities, to run after-school programs, or as synagogues. In a recent campaign, the Homefront Security Ministry has been checking the status of shelters and found many of them to be wanting.
Israel, meanwhile, has called for international action to halt the Syrian government's use of chemical weapons. Speaking Sunday, Prime Minister Binyamin Netanyahu said that Israel "expects this to end. The most dangerous regimes on earth must not have the most dangerous weapons on earth."
Speaking with French Foreign Minister Laurent Fabius Sunday morning, President Shimon Peres said that "Syria has a ruler who kills people with no compunction, and in a horrible manner. No one can ignore the deaths of children. This is the time for an international effort to remove chemical weapons from Syria. We will not allow those weapons to remain there, not in the hands of Bashar al-Assad, or anyone else," Peres said.