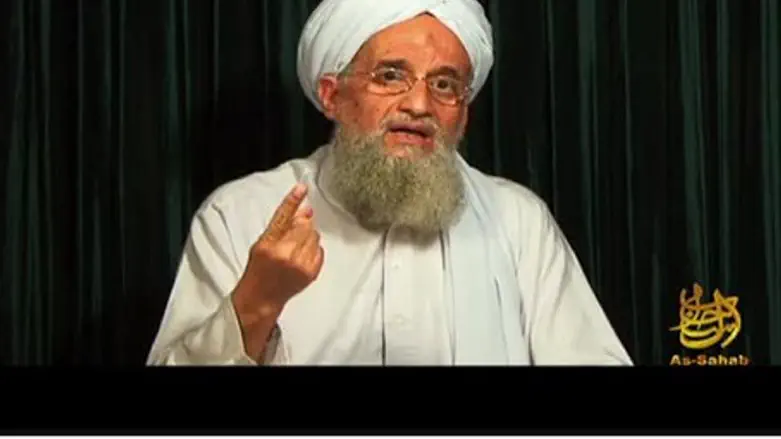 Al-Qaeda leader Ayman al-Zawahiri
AFP photo
A vow by Al-Qaeda to carry out an attack that would "change the face of history" was behind this month's closures of Western embassies, the president of Yemen revealed Friday, according to Reuters.
In the first public disclosure by a government leader of details of the intercepted call that prompted the U.S. alert, President Abd-Rabbu Mansour Hadi said that Nasser al-Wuhayshi, head of Al-Qaeda in the Arabian Peninsula, made the pledge to al-Qaeda leader Ayman al-Zawahiri on July 29.
Many U.S. and other Western diplomatic missions in the Middle East, Africa and Asia closed temporarily as a precaution.
Wuhayshi spoke by phone with Zawahiri, who is believed to be based in Pakistan, while attending a meeting of 20 Al-Qaeda leaders in Yemen's Maarib province, Hadi said.
"When I was in Washington, the Americans told us that they had intercepted a call between Ayman al-Zawahiri and Wuhayshi, in which Wuhayshi told Zawahiri that they would carry out an attack that would change the face of history," the president told police cadets in remarks which state television aired on Friday.
"I told the Americans this would be in Yemen," he said, apparently reflecting a belief among some analysts that AQAP lacks the ability to launch big attacks outside the country.
Hadi added that two cars, each carrying seven tonnes of explosives, were later identified in Yemen by security forces.
The first, intended to attack the Mina al-Dhabba oil terminal in southeast Yemen, was destroyed.
The second car was headed for the capital Sanaa and is still unaccounted for, though Hadi said authorities had arrested the cell which was in charge of smuggling it into the city.
"This made them (the Americans) scared and they closed their embassies in the whole region, because they heard Wuhayshi say he would carry out an attack that would change the course of history," Hadi said.
The New York Times reported recently that the Obama administration's decision to close the diplomatic missions resulted from intercepted electronic communications in which Zawahiri ordered Wuhayshi to carry out an attack a Middle East embassy.
U.S. sources have said that while some type of message between Zawahri and AQAP was intercepted recently, there were also other streams of intelligence that contributed to the security alert.
The U.S. embassy in Sanaa reopened on August 18. It was one of about 20 U.S. embassies and consulates that closed.
(Arutz Sheva's North American Desk is keeping you updated until the start of Shabbat in New York. The time posted automatically on all Arutz Sheva articles, however, is Israeli time.)