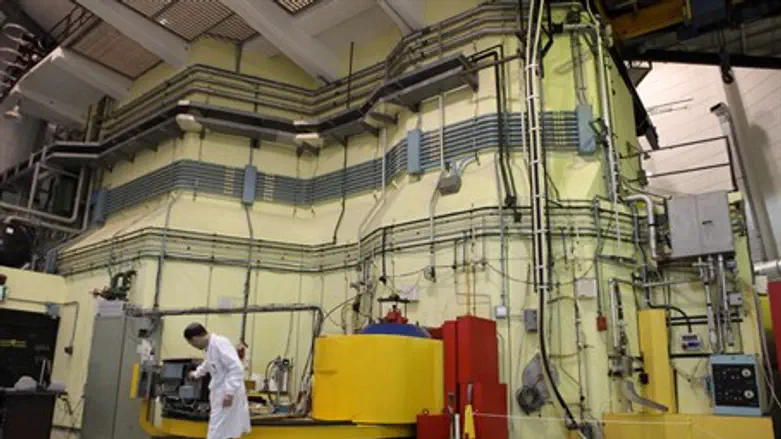 Nuclear reactor (illustration)
Flash 90
A U.S. institute tracking Iran's military program said on Thursday that recent satellite images show further major alterations of a military site that the UN atomic agency suspects may have been used in trying to develop nuclear arms.
The most recent imagery from satellite company Digital Globe is from August 13 and was seen by The Associated Press ahead of publication by the Institute for Science and International Security (ISIS).
The images show what ISIS says is progressive asphalting of a part of the Parchin complex that the International Atomic Energy Agency (IAEA) says was possibly used to test conventional explosive triggers for a nuclear blast.
ISIS notes in a report on its website that a July 2013 letter to the IAEA from Iran only repeats its false and misleading statements about the IAEA, Iran's safeguards obligations, and the verification challenges inspectors face in Iran, particularly with regard to the need for access to Parchin. 
Iran has refused to give the IAEA access to sites, documents and scientists involved in what the agency suspects were efforts, mostly in the past but possibly ongoing, to develop nuclear weapons.
The letter from July, says ISIS, claimed that Iran was treated unfairly in an IAEA reported from May and that it has nothing to hide, while making what ISIS said was "a clumsy attempt at dismissing or misdirecting focus from the Parchin site."
The IAEA visited the site twice in 2005 but says that since then it has obtained additional indications of activity there that make it want to go back.
A year ago, in a report dated August 1, 2012, ISIS assessed that apparent cleanup activities at Parchin were complete, because imagery showed what appeared to be the final result of considerable sanitization and earth displacement activity.
A later image, dated August 15, 2012, showed additional suspicious activity at a building suspected of housing high explosive experiments related to the development of nuclear weapons and at an adjacent, northern building that may have also hosted suspect activities.
The head of the IAEA, Yukiya Amaon, has called on Iran to allow immediate access to the Parchin military base "without further delay" and without waiting for stalled talks to reach an agreement on investigating other alleged "westernization" activities.