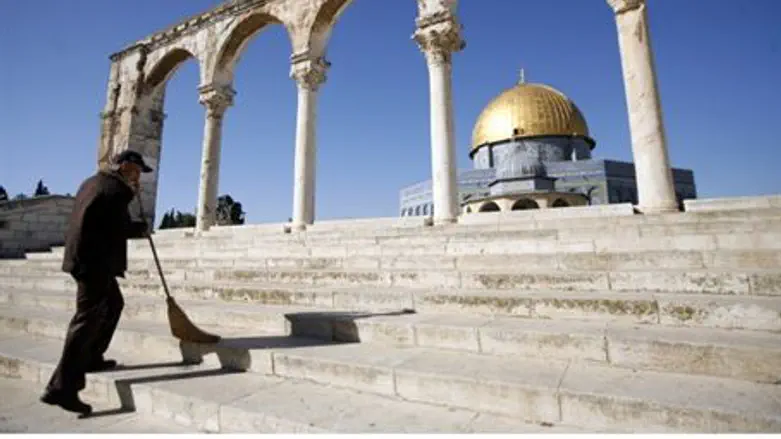 Al Aqsa Mosque, Jerusalem
Israel news photo: Flash 90
An area collapsed near the western wall of the Al-Aqsa Mosque in Jerusalem late Tuesday, reported the Turkish Anadolu news agency.
An eyewitness told the agency that the collapse occurred near the Bab as Silsila, on the western part of the mosque.
It is the second collapse near the western wall within five years, Cum'a Usayle, an eyewitness, told Anadolu.
"The collapse has caused a deep hole there. It is dangerous for the Al-Aqsa Mosque. It poses danger especially for children and women," he said.
The report claimed that no security precautions around the area have been taken by Israeli officials so far, nor has there been a statement about the incident.
The Al-Aqsa Foundation and Cultural Heritage Organization accused Israel, as it usually does, of paving the way for demolishing the Al-Aqsa Mosque by "building new settlements and digging dozens of tunnels."
Arabs continuously accuse Israel of "Judaizing" the Temple Mount, sometimes resorting to ridiculous propaganda such as accusing Israel of using chemicals to erode the foundations of the mosque in order to cause it to collapse.
At the same time the Waqf, which was left in charge of the Temple Mount after Israel liberated it during the 1967 Six Day War, consistently destroys Jewish antiquities on the compound in a direct violation of a ruling by the Supreme Court.
The Waqf has removed every sign of ancient Jewish presence at the site. At the entrance to the Temple Mount, a Waqf sign says, "The Al-Aqsa Mosque courtyard and everything in it is Islamic property."
Palestinian Authority Chairman Mahmoud Abbas several months ago accused Israel of trying to "destroy" the Al-Aqsa Mosque by allowing Jews to pray on the Temple Mount.
Speaking to a Saudi-based newspaper, Abbas said that "the Al-Aqsa Mosque is in danger," claiming that Israel prevents PA Arabs from praying at the mosque, while allowing "extremist Jews" to worship there. This, he claimed, is proof that Israel has a "malicious" and dangerous plan to destroy the mosque and rebuild the "false" Holy Temple in its place, as he put it.
Most recently, Jordanian King Abdullah II added fuel to the ongoing debate over Jerusalem and the Temple Mount, when he told visiting Muslim and Christian dignitaries from Jerusalem that he will continue his efforts to "safeguard" Islamic and Christian sites in the holy city of Jerusalem from what so-called "Judaization."