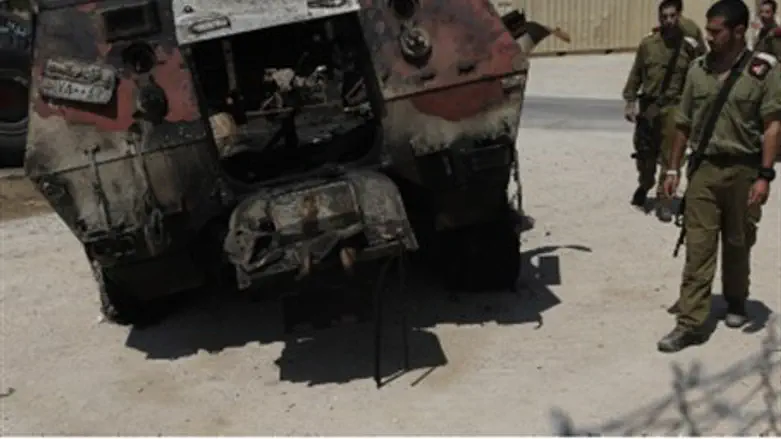 August, 2012: wreckage of Egyptian APC.
Israel news photo: Flash 90
Islamist terrorists have killed 25 security personnel in an ambush in northern Sinai, officials in Egypt have claimed, according to Sky News.
The BBC reported that the people killed were members of the police. They were travelling in two buses which came under attack from armed men close to the town of Rafah, on the Gaza border, security forces said.
A number of policemen were also reported to have been injured in the blast.
Multiple reports circulating on the Twitter network said that the policemen were made to lie down and then shot, execution style. Security sources cited by the BBC said four armed men had stopped the police buses and forced the passengers to get out before shooting them.
On Thursday, terrorists in the Sinai peninsula killed seven Egyptian soldiers in an attack on a checkpoint, security officials said. Gunmen in two cars attacked the soldiers in their tents at a checkpoint near a police station in the northern town of El-Arish, the officials said.
In August of 2012, 16 Egyptian soldiers were killed in an attack by Islamists who then tried to cross the border into Israel.
Meanwhile, at least 36 Islamist prisoners have died in Egypt during an apparent attempt to escape during their transfer to a prison outside Cairo, the BBC reported Monday.
The Egyptian interior ministry gave conflicting accounts of the deaths, initially saying the men died from gunfire during an attack by unidentified gunmen.
The Muslim Brotherhood described the incident as "cold-blooded killing".
European Union ambassadors are due to meet to discuss the crisis, in which at least 830 have been killed since Wednesday.
On Sunday, the head of Egypt's armed forces said that "there is room for everyone" in Egypt, including supporters of ousted President Mohammed Morsi. But he said they had to "revise their national position".
But Gen Abdul Fattah al-Sisi also warned the military would not "kneel" if faced with violence.