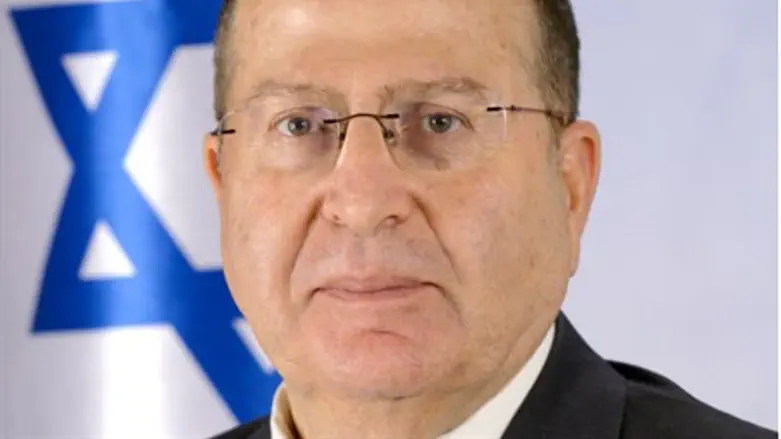 Defense Minister Moshe Yaalon
Flash 90
A day after a car bombing in a stronghold of Hezbollah in Beirut killed at least 20 people, Defense Minister Moshe Yaalon met with UN Secretary General Ban Ki-moon on Friday afternoon, and warned of Hezbollah's operations against Israel near the northern border.
"Hezbollah is Iran's main weapon against Israel. This is an organization which is a state within a state," Yaalon told Ban, and presented him with a map of populated localities in southern Lebanon, where Hezbollah uses apartments to hide weapons, launch missiles at Israel and use as fighting positions in a possible conflict in the future.
"We greatly appreciate the presence of UN troops at the border with Syria and southern Lebanon. The Middle East is in the midst of a strategic earthquake, and the instability will continue in the long-term," the Defense Minister told Ban, adding, "The only stable thing in the Middle East is the lack of stability."
Yaalon noted that Syria will likely be engaged in its present civil war for years, and said, "In Lebanon, there is a developing struggle between Hezbollah and Sunni parties. We are identifying Hezbollah military activity near the border with Israel, even though according to UN Resolution 1701 Hezbollah should not be there and work there."
Last week, four IDF soldiers suffered light to moderate injuries when an explosion occurred near the northern border.
The four soldiers wounded were located 400 meters inside Lebanese territory when the blast occurred.
Hezbollah leader Hassan Nasrallah claimed responsibility for the bombing attack on Wednesday, saying his group "will face" any further border violations by the Jewish state.
(Arutz Sheva's North American Desk is keeping you updated until the start of Shabbat in New York. The time posted automatically on all Arutz Sheva articles, however, is Israeli time.)