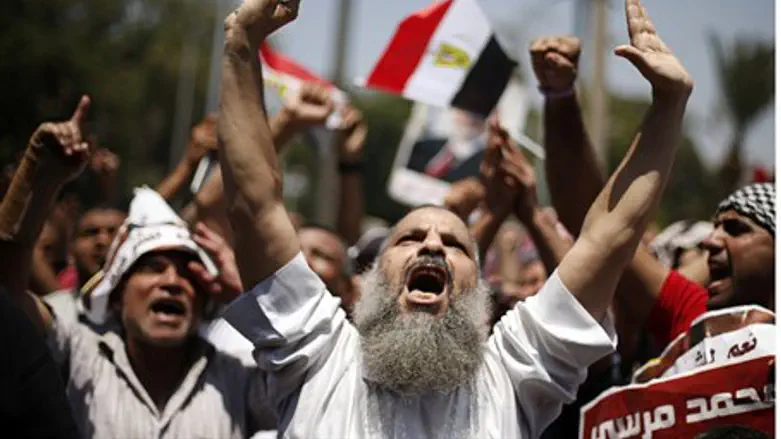 Muslim Brotherhood supporters
Reuters
In what might be signs of a rebellion within Egypt's army, a local website published a statement on behalf of officers in the Egyptian army on Wednesday evening, in which they announce that they are rebelling against the Egyptian chief of staff and Defense Minister Abdel Fattah al-Sissi.
The statement was published on a website calling itself "The Egyptian Uprising", according to Arab affairs expert Dalit Halevi.
The statement, said Halevi, was written by "the free officers of the Egyptian army". The officers noted in their statement, called "Statement Number 1", that the duty of the army is to defend the homeland, religion and values ​​of the state.
According to the officers, the army should protect democracy, the country's borders and the legitimacy of government, and not to intervene in the struggle between political forces or to disperse demonstrations.
They stress that will not betray the commander in chief of the armed forces, who was elected democratically with the blessing of the international community, a reference to ousted President Mohammed Morsi.
In their message, the so-called "free officers" noted that al-Sissi erred when he chose to intervene in the political situation in Egypt while betraying his commanding officer (Morsi), and therefore he shall "bear the punishment of Allah and the people."
Many deaths were recorded on Wednesday as Egyptian police began a crackdown on supporters of the deposed president.
Islamists claimed that 2,000 died and thousands were injured, but the government said the number was much lower.
The killings took place when police swooped down on protesters camping out in support of the Islamist leader at Rabaa al-Adawiya, where Morsi supporters have been staging sit-ins for weeks, demanding he be reinstated.
The Egyptian interim government declared a state of emergency, as the death toll continued to mount in clashes between security forces and Morsi supporters.
The state of emergency began at 16:00 local time. It is set to last for only a month, but some analysts are already pointing out that Morsi's predecessor, Hosni Mubarak, who was also ousted after a popular uprising, utilized the "emergency law" powers for 31 years as a tool to quash opposition and silence political dissent.