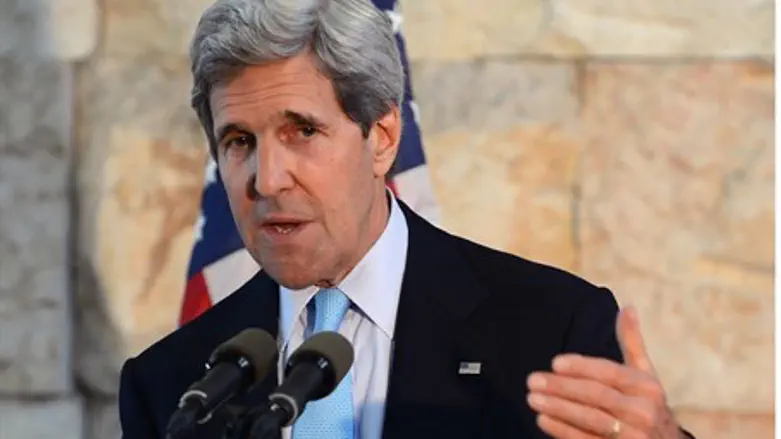 John Kerry
Flash 90
U.S. Secretary of State John Kerry said on Monday that Israel's announcement of new construction in Jerusalem, Judea and Samaria was expected and added that it should not affect the resumption of peace talks.
Kerry said Israel's new homes "were to some degree expected" and added, according to Reuters, "What this underscores is the importance of getting to the table, getting to the table quickly" and resolving disputes.
He said that he had spoken on Monday with Israeli negotiator Justice Minister Tzipi Livni and had called Prime Minister Binyamin Netanyahu, who is recovering from emergency hernia surgery.
Nevertheless Kerry, who was on a visit to Colombia, reiterated that "The United States of America views all of the settlements as illegitimate."
Earlier on Monday, State Department spokeswoman Jen Psaki condemned the Israeli construction, saying, "Our policy has not changed. We don't accept the legitimacy of continued settlement activity."
Russia described the Israeli move as "a counterproductive step that complicates the atmosphere of the talks," referring to the newly restarted peace talks between Israel and the Palestinian Authority.
A spokesman for United Nations Secretary General Ban Ki-moon also re-stated his long-standing opposition to continued Israeli construction.
"Settlements in the occupied territories are illegal, they have been and they continue to be illegal," Eduardo del Buey said.
Also on Monday, the European Union denounced the proposal for construction in Judea and Samaria and parts of Jerusalem beyond the 1949 Armistice Line.
The EU insisted that Israel and the Palestinian Authority should "avoid any actions which would halt negotiations."
Housing Minister Uri Ariel (Bayit Yehudi) declared on Sunday that Israel will continue to build new homes in Jerusalem.
"Talks are taking place, but the main question is what they are talking about," he said. "In the mean time, we will carry out our duty, which is to build. I do not see peace but rather an audacious Arab Spring, though I remain hopeful peace will break out."