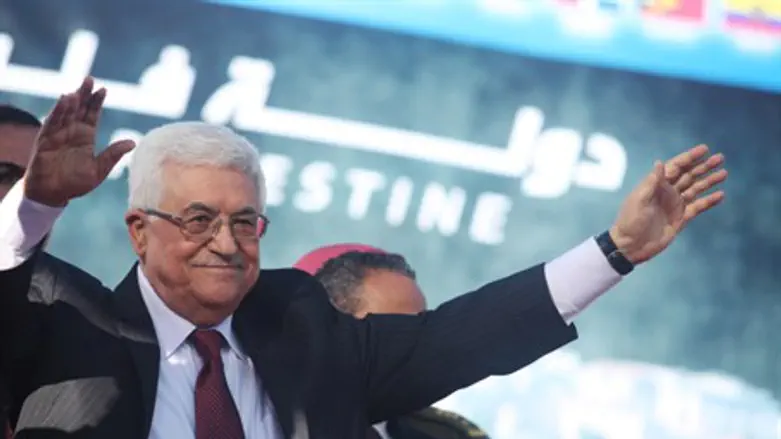 PA Chairman Mahmoud Abbas
Flash 90
Palestinian Authority Chairman Mahmoud Abbas vowed on Sunday that none of the terrorists that Israel will release as a "gesture" to get him to agree to peace talks will be deported to areas other than Judea, Samaria and Gaza.
When Israel released more than 1,000 terrorists in exchange for soldier Gilad Shalit in 2011, it insisted that some of the terrorists not be sent to areas under PA control. Some of the freed terrorists were sent to Turkey and other countries.
This time, however, Abbas stressed that the 104 terrorists to be released will be returned to areas assigned to the PA and that none of them would be "expelled from his homeland."
Abbas made the remarks in a meeting on Sunday evening with the PA's Minister of Prisoners Affairs Issa Qaraqe.
He added that the release of terrorists, especially those who were arrested before the signing of the Oslo Accords, will increase the chances of achieving peace.
Abbas stressed that he will continue to work towards the release of all terrorist prisoners.
On Sunday evening, the ministerial committee headed by Defense Minister Moshe Yaalon met and approved the release of 26 terrorists as part of a gesture to the PA.
14 of the terrorists to be released will be exiled to Gaza, and the remaining 12 will be transferred to PA-assigned areas of Judea and Samaria. Eight of the terrorists on the list were to be released over the next three years, two of them in the coming six months.
The terrorists to be released include 17 who were convicted of murdering Israelis.
Despite agreeing to peace talks, Abbas has continued to incite against Israel. As the talks got underway, Abbas said that there would not be a single Israeli (i.e., Jew) living within a future PA state.
There have been many other incidents of incitement on PA TV during the renewed peace talks as well, as reported by Arutz Sheva.
In the most recent such incident, PA TV broadcast a crudely anti-Semitic program legitimizing violence against Jews in Judea and Samaria - who were stereotyped as violent thieves. The end of the program glorified the humiliation of a religious Jew by cutting off his peyote side-curls, in a scene chillingly reminiscent of Nazi anti-Jewish propaganda.
Other Ramadan broadcasts include a re-run of a music video encouraging violence against Israelis, and the glorification of the murderer of 61 Israeli civilians on the official Facebook page of Abbas' Fatah party.