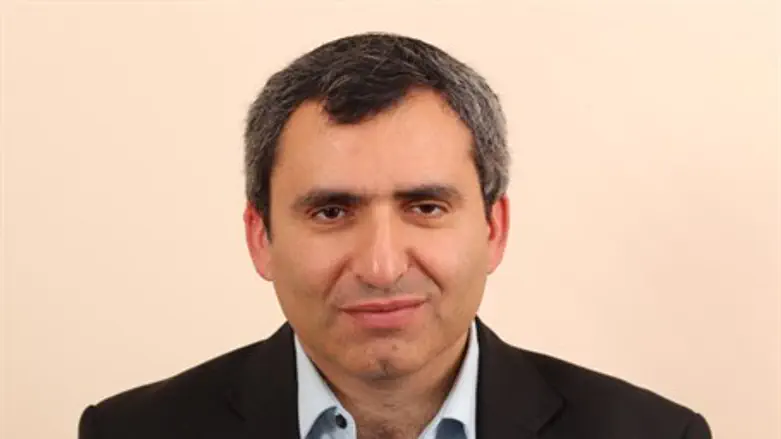 Deputy Foreign Minister Zeev Elkin
Flash 90
Deputy Foreign Minister Ze'ev Elkin (Likud) had harsh criticism Sunday for the government he is a part of, over the decision to release terrorist murderers. He admitted that he, too, shares in the blame for the decision, although he opposes it.
"I am angry at the approach that says that releasing terrorists brings peace nearer, and building a kindergarten prevents peace," he said – in a reference to the "peace camp" and its criticism of construction for Jews in Jerusalem, Judea and Samaria.
"If [the Palestinian Authority] asks for the release of the murderers as the first step, that says something about their priorities," he added.
He noted that the highest salary paid by the Palestinian Authority (PA) is that paid to terrorist murderers in Israeli jails. While a person serving in the PA security forces makes about 3,000 to 4,000 shekels per month ($850 to $1,150), the salary of a terrorist prisoner is between 10,000 and 12,000 shekels ($2,850 to $3,400)."
What is even worse, Elkin added, is that the more serious a terrorist's crime was, the higher his salary. "There is a very problematic educational message here," he said drily.
If someone offered that the United States free Al Qaeda terrorists in exchange for conducting contacts with elements in Afghanistan, he noted, the offer would immediately be scrapped, but "when the international community, in its hypocrisy, adopts the Palestinian approach, this is a very big problem."
Elkin doesn't buy Defense Minister Moshe Yaalon's hints, two weeks ago, that there are reasons for Israel's decision to free the murderers, which cannot be disclosed at present. "Perhaps, one day, the strategic considerations that stood behind the decision to free the Palestinian prisoners will be revealed," Yaalon had said. 
"I treat statements like this with skepticism," Elkin said. "When there was a construction freeze, they also promised us that there would be a meaning. I am still looking for that meaning.
"I don't claim to know everything and that I am privy to all the information, but these are problematic reasons and there is a deep structural moral problem here, with the release of terrorists, and I can't find ways to explain this."
Elkin added that once the decision was made – he bears responsibility for it, because he did not leave the government. Opposing the decision "does not absolve me of responsibility for this mistaken decision. Those who oppose it are every bit as responsible as those who support it."