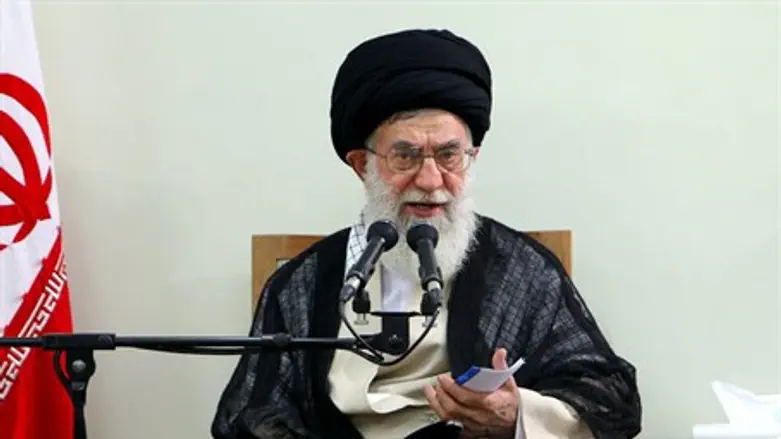 Ayatollah Ali Khamenei
AFP photo
Iran's Supreme Leader on Friday slammed American attempts to revive peace talks between Israel and the Palestinian Authority, stressing that such efforts are futile, the Fars news agency reported.
Addressing a massive crowd of worshippers during Eid al-Fitr prayers at Tehran University, Ayatollah Ali Khamenei said, "The U.S.-brokered talks between Israel and the Palestinian Authority are aimed at undermining the Palestinians' resistance."
He blasted the U.S. plan to revive the Middle-East peace talks, saying Washington has invited PA Arabs to the talks while Israel "continues its illegal settlement construction in the occupied territories," according to Fars.
Khamenei claimed that in more than 60 years "of the occupation of Palestine", the peace talks have not had the least benefit for the "oppressed Palestinians". He stressed that any benefit gained throughout the years has been the result of resistance and Intifada.
He argued that the results of any U.S.-hosted talks will eventually damage the PA Arab side and force PA Arabs to "abandon their rights and encourage the occupier."
"The U.S. is not a real mediator, it stands by the Zionists," declared Khamenei. "Definitely .... it is against the interests of the Palestinians."
The Israelis "destroy houses and construct buildings while claiming they want negotiations," he claimed.
On Thursday, State Department spokeswoman Jen Psaki confirmed that peace negotiations between Israel and the Palestinian Authority will resume next week and will be held in Jerusalem, followed by another meeting held in Jericho.
As a gesture to the PA to get it to come back to the negotiating table, Israel has agreed to free 104 terrorists. A group of 26 terrorist prisoners is set to be released next Tuesday.
Water and Energy Minister Silvan Shalom revealed this week that Prime Minister Binyamin Netanyahu was prepared to offer the PA a building freeze in Judea and Samaria but the PA rejected that offer, opting instead to demand that Israel release imprisoned terrorists.
(Arutz Sheva's North American Desk is keeping you updated until the start of Shabbat in New York. The time posted automatically on all Arutz Sheva articles, however, is Israeli time.)