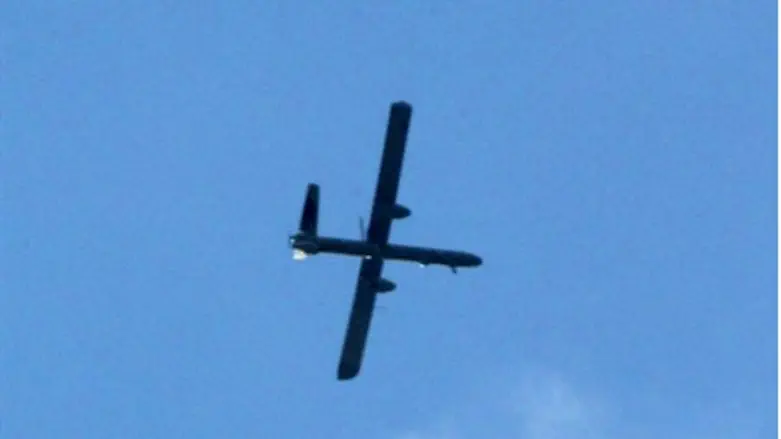 drone (illustrative)
Israel news photo: Flash 90
A drone strike  - the sixth such strike in two weeks - has killed at least six people travelling in a convoy in Mareb province, in southeastern Yemen.
Four of the dead are believed to be Al Qaeda terrorists, and the remaining two are civilians.
Speaking to CNN, an unnamed security official explained that "Mareb was a previous stronghold for al Qaeda, and a number of members of the group still live in the province."
According to Yemeni security sources, terrorists from Al Qaeda in the Arabian Peninsula (AQAP) shot down an army helicopter in the same province this past Tuesday, underlining the continued threat posed by the group.
Drone strikes in Yemen have killed at least 29 people in recent weeks, according to "official sources" in the country.
Planned attacks
It is unclear whether today's strikes are related to a recent decision by the US government to shut down 24 of its embassies across the Middle East, as a response to an imminent threat of attack by Al Qaeda terrorists.
That attack was apparently ordered directly by Ayman al-Zawahiri, leader of Al Qaeda's central leadership in Pakistan, in a conference call with the heads of several Al Qaeda branches in the Middle East and North Africa, it emerged Wednesday.
Zawahiri was said to have issued direct orders to AQAP - which the US government designates as the most dangerous branch of Al Qaeda - to attack western targets in Yemen. 
Also on Wednesday, Yemeni authorities claimed to have foiled another major AQAP attack.
A Yemeni government spokesman was quoted as saying the plot involved blowing up oil pipelines and taking control of certain cities – including two ports in the south, one of which accounts for the bulk of Yemen's oil exports and is where a number of foreign workers are employed.