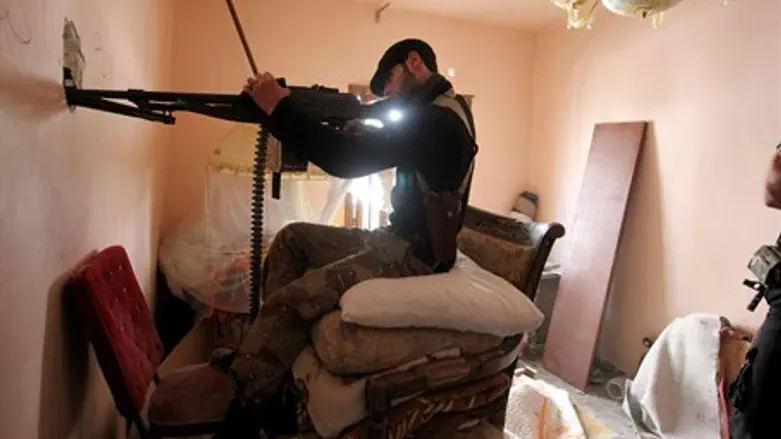 Free Syrian Army fighter, Aleppo, March 2013
Reuters
Western analysts have been viewing with growing alarm the role of western-born Islamist fighters in the Syrian civil war.
In the latest incident, it has been revealed that the operation to capture of the Minnagh airbase in Aleppo was spearheaded by a group of foreign Jihadists. The group called Jaish al-Muhajireen wa Ansar is led by a notorious veteran jihadist Abu Omar al-Shishani from Georgia.
The group is known to be comprised of North Americans and Europeans and is closely aligned with the Islamic State of Iraq and al-Shams, the leading al-Qaeda backed group in Syria according to The Telegraph.
The Syrian rebels targeted this large airbase in Aleppo for almost a year. The group of jihadists were able to infiltrate the perimeter via suicide bombings and anti-tank missiles, according to the report.
"The value of this base is hugely symbolic," said Charles Lister, an analyst following the Jaish al-Muhajireen since the beginning of their rise to prominence. He continues, "It's the first big base seizure by the opposition for several months. But because it is under the control of the Jihadist groups it shows the importance of their role in the fighting."
Photographs and videos have surfaced of the Jaish al-Muhajireen group in which its commander Abu Musab calls for support from fellow Muslims to help their battle against the regime in a clear British accent.
In a related incident, an American passport and identification documents were found at an Al Qaeda base in Northern Syria. The US passport belongs to Amiir Farouk Ibrahim and was discovered between 15 other identification documents of foreigners.
This raises a question as to the extent of how many foreign fighters are involved in this conflict already and the consequences this might bring their countries of origin upon their return.