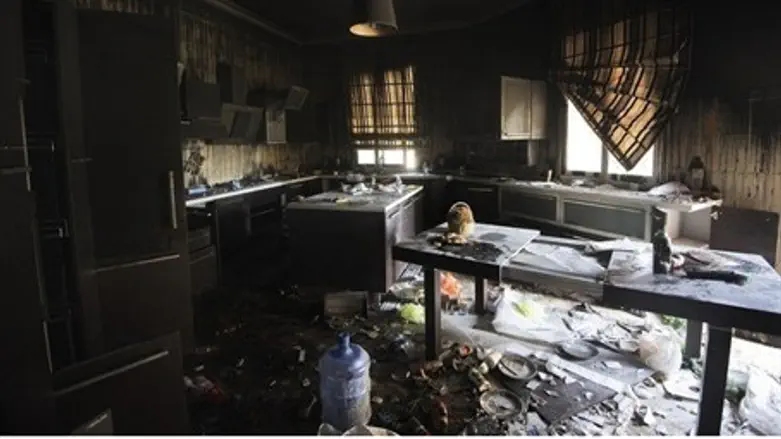 Damage inside the burnt consulate building in
AFP/FIle
The United States Justice Department has filed sealed criminal charges against a number of suspects in the attack on the U.S. consulate in Benghazi that killed the U.S. ambassador to Libya and three other Americans, people familiar with the matter told the Wall Street Journal on Tuesday.
One of those charged, according to the sources, is Ahmed Abu Khattalah, founder of Libya's Islamist militia Ansar al-Sharia.
Abu Khattalah was seen at the compound when it was overrun, according to intelligence officials. In interviews with reporters, Abu Khattalah has admitted being at the scene but denied involvement in the attack.
The exact nature of the charges wasn't clear, nor was the number of suspects named in the investigation, reported the Wall Street Journal. Investigators and prosecutors are continuing to pursue the case, and they plan to charge additional suspects, according to the people familiar with the case.
A Justice Department spokesman, Andrew Ames, said the investigation is continuing. "It has been and remains a top priority," he said, declining to comment further. Earlier this year, Attorney General Eric Holder told Congress investigators were making good progress on the case, but declined to offer specifics.
U.S. authorities have released pictures of three other men they said were present during the September 11, 2012 attack on the U.S. mission in eastern Libya, but did not say whether the three men are suspects in the attack.
The attack led to accusations from Republicans that the Obama administration had issued public talking points designed to hide the likelihood that the attackers were linked to Al-Qaeda, and thereby insulate political figures from blame in the months before a presidential election. The White House has long denied those accusations.
Senior administration officials initially described the attack as a spontaneous reaction to an anti-Islam Internet video that had sparked violent demonstrations in Cairo and elsewhere.
Officials later admitted that there had been no protest outside the consulate in the eastern city of Benghazi, and U.S. media have reported that a nearby annex -- which was also attacked -- was part of a secret CIA mission.
In highly anticipated testimony before the Senate Foreign Relations Committee in January, former Secretary of State Hillary Clinton took responsibility for the attack in Benghazi and cited a "personal" commitment to improving security provisions for U.S. diplomatic missions overseas.
Last week, eight GOP legislators sent a letter to newly-confirmed FBI director James Comey demanding he make the probe into the Benghazi attack a priority, saying they expect a status report within 30 days.