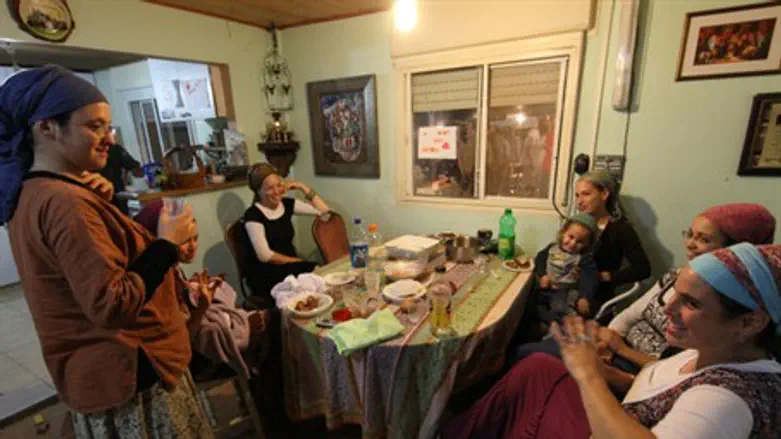 Women in Samaria (Shomron)
Israel news photo: Flash 90
The Jewish population of Judea and Samaria grew by 2.12% in the last six months – faster than the rate of Jewish population growth in the rest of Israel, which is 1.9% annually, reports Israel Hayom.
The Jewish population of Judea and Samaria currently numbers 367,000 - in addition to the approximately 300,000 more living in Jewish neighborhoods "over the Green Line" in northern and eastern Jerusalem. In the last six months, this number grew by 7,700, including immigrants and births.
The newspaper noted that the number is particularly impressive when one takes into account the low supply of housing in Judea and Samaria, the rise in housing prices and the fact that in the last year, there have been less construction tenders issued and delays in approval of zoning plans for communities in Judea and Samaria.
The population of the Etzion Bloc Regional Council grew by 4.1%, and the Samaria Regional Council grew by 3.2%.
Yigal Dilmoni, Deputy Director of the Yesha Council, an unofficial federation of Judea and Samaria leaders, reacted to the numbers, telling the newspaper: "The large demand obligates the government to renew construction and issue new tenders in the settlement blocs."
Peace Now chairman Yariv Oppenheimer was disappointed with the figures, saying: "At this rate, soon the two-state vision will not be realizable." 
Jews have lived in Judea and Samaria since Biblical times, around 3,500 years, but prior to the establishment of the State of Israel faced discrimination, persecution and often mass-murder - for example in Hevron, where despite the difficulties there was a sizable Jewish community until 1929, when local Arabs conducted a massacre of the local Jews, the remainder of whom were forced to flee their homes.
Any Jews who remained in Judea and Samaria were expelled during the 1948-1949 War of Independence and did not return until the liberation in 1967. Since then, the Jewish population in Judea and Samaria has grown dramatically, but has also been the focus of a bitter political controversy that virtually defines the difference between left and right in Israeli politics.
While leftists oppose the existence of Jewish communities in Judea and Samaria, nationalists support it, and "centrists" support a continued Jewish presence only in certain "blocs", while agreeing to tear down Jewish communities outside those blocs in a future peace deal.