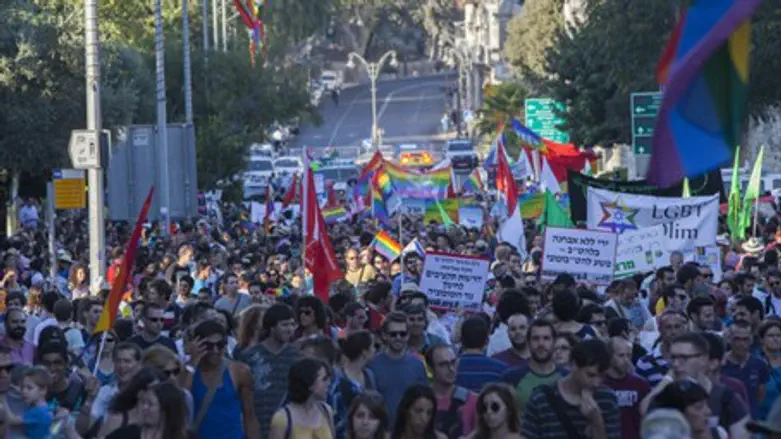 Gay Pride Parade in Jerusalem
Israel news photo: Flash 90
The annual Gay Pride parade and rally was held in Jerusalem on Thursday evening. Several roads were shut down during the parade, which traveled through the downtown area to a city park.
Many marchers carried rainbow flags. Some carried more political signs, including demands for more funding for initiatives to fight homophobia, references to the Bar Noar shooting, and criticism of Russian President Vladimir Putin. Putin recently signed a law that bars the dissemination to youth of information treating homosexual and heterosexual relationships as "socially equivalent."
As usual, the march drew counter-protests. The "pride" march is particularly controversial in Jerusalem, Judaism's holiest city, with many Jews and Muslims arguing that it encourages immoral acts and constitute a desecration of the holy city.
One counter-protester was arrested for throwing a stink bomb at marchers.
A short time later, two women were arrested for a particularly attention-grabbing protest. The two had dressed up as animals, one as a monkey, and one as a donkey with a sign reading, "I'm a proud donkey."
Their protest was similar to one that took place one year earlier. During the 2012 march, counter-protesters brought three donkeys wearing sheets with the words "I'm a proud donkey" written on them.
Homosexual politicians in Israel have expropriated the Hebrew word "ge'eh," meaning "proud," to denote "homosexual," making use of the word's similarity to the English "gay." Thus "I'm a proud donkey" has a double meaning.
Hundreds of police officers, Border Police and police volunteers were on hand to protect the marchers. A police statement issued Thursday evening said, "We call on the residents of the city and participants in the march to listen to police officer's orders. The police will take determined action against anyone who tries to disturb the peace."