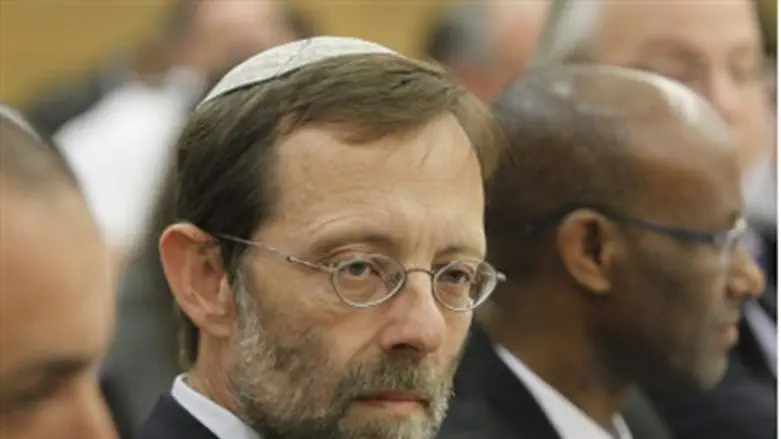 MK Moshe Feiglin
Israel news photo: Flash 90
Israelis who believe the Temple Mount should remain in Israeli hands must take urgent action, Likud MK Moshe Feiglin warned Thursday.
Feiglin, who heads the Jewish Leadership faction of the Likud party, visited the Temple Mount on Thursday despite knowing he would find it locked to Jews, as a display of protest.
In an "unprecedented" move, police on Wednesday informed Jewish groups that the Temple Mount will be closed to all non-Muslims until at least the end of Ramadan, on 11th August. The announcement has provoked renewed anger over anti-Jewish discrimination on the Temple Mount, and sparked calls by activists for a mass-protest on 7th August, at the start of the Hebrew month of Elul.
Temple Mount activists had complained that for the past three days the Temple Mount - the holiest place in Judaism - remained inexplicably closed to non-Muslim visitors. The only "explanation" offered was a bland sign which simply read "Today the Temple Mount will be closed to visitors." Those restrictions did not, however, apply to Muslim visitors, who continue to receive unrestricted access.
On Wednesday, Police Commander Avi Bitton finally informed representatives of the Organisation of Temple Movements - an umbrella of various Temple Mount groups - that the sign would remain up for at least another two weeks, until after the Muslim festival of "Eid", which marks the end of Ramadan.
Feiglin told Arutz Sheva on Thursday that the closure of the holy site to Jews for the Ramadan holiday is a real cause for concern. The unprecedented move is linked to diplomatic talks between Israel and the Palestinian Authority, he confirmed.
"There's a process here of taking sovereignty over the Temple Mount into Islamic hands, and it's part of an agreement that [Prime Minister Binyamin] Netanyahu and [Justice Minister] Tzipi Livni are going to build in the upcoming months," he warned.
The political right must realize that unless it is willing to sacrifice for the sake of Jewish access to the holy site, nothing will happen, he added. "I call for everyone who hears us to come here, to understand that they are giving the very heart of Jerusalem to foreigners, to Islam," he called.
Taking a conservative approach will not help, he said. "This isn't a matter of policy, of authorizations – we've already tried all the accepted routes. We need to understand that there needs to be sacrifice here, that one thousand people show up ready to make sacrifices, ready to be arrested," he explained.