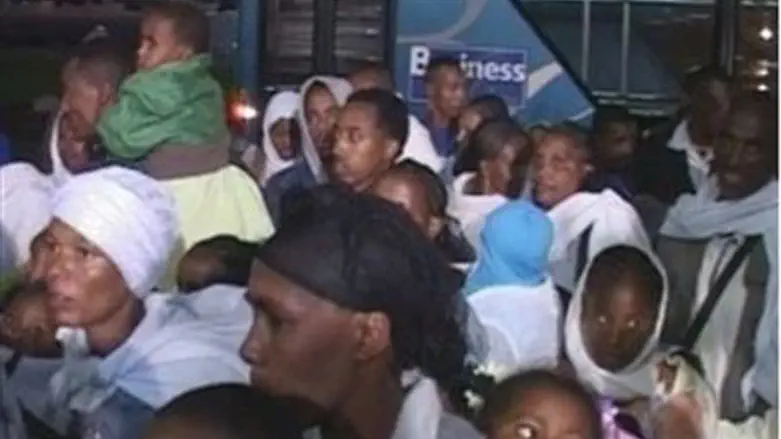 Ethiopian aliyah
Israel news photo: Flash 90
Since a television expose accusing Israeli officials of putting Ethiopian immigrant women on birth control without their knowledge, MK Orly Levi-Abekasis (Likud Beytenu) has fought for an investigation.
While new reports have cast doubt on the accusations, Levi-Abekasis told Arutz Sheva that she will continue to follow the case and will make sure it is properly studied.
"Evidence points to a very disturbing policy," she said.
The data shows a clear drop in birthrate among Ethiopian immigrants to Israel, she said. She noted that MK Yaakov Margi (Shas) had compared the situation to that among Jewish immigrants from Arab countries in the 1950s, who complained of heavy pressure from Israeli officials to have fewer children.
"I hope that whoever is responsible pays the price," she declared. However, she noted, it is not clear if there was an official policy to pressure or trick Ethiopian women into using birth control, or if it only happened in individual cases.
The investigation that sparked the birth control debate found that Ethiopian women waiting to immigrate to Israel, and new immigrants living in absorption centers in Israel, were given the Depo Provera shot, which prevents pregnancy for several months at a time. Reporter Danny Ababa suggested that the women were given the shot without their knowledge.
It was unclear in the report whether the shot was intentionally given without the women's knowledge, or whether there had been a miscommunication due to language and cultural barriers.
Several officials have questioned the idea that the Ethiopian women were unaware of what the shot was for, and say it is more likely that they wanted to use birth control.
Levi-Abekasis argued that even if the women wanted birth control, the widespread use of the Depo Provera shot was irresponsible. The shot should be given only if other forms of birth control are not an option, she said.
The Health Ministry has denied any knowledge of the incidents in question. Following the report, ministry officials ordered doctors to stop using Depo Provera except in cases where the patient can be given a full explanation of the medicine's use and effects in her own language. In addition, doctors who prescribe the medicine must explain why they did not suggest an alternate form of birth control.
Sources who spoke to Haaretz suggested that Ethiopian women may prefer the Depo Provera shot due to its relative ease, and due to the privacy it affords them. Alternate forms of birth control would be harder to conceal from family, they explained.
The Joint Israel organization, which provides care for Ethiopian immigrants, is still investigating the claims that shots may have been given without women's knowledge. The State Comptroller plans to investigate as well.
The Knesset has found evidence that the state of Israel ordered that immigrant women be offered birth control, but there is so far no evidence that birth control was given without women's informed consent.