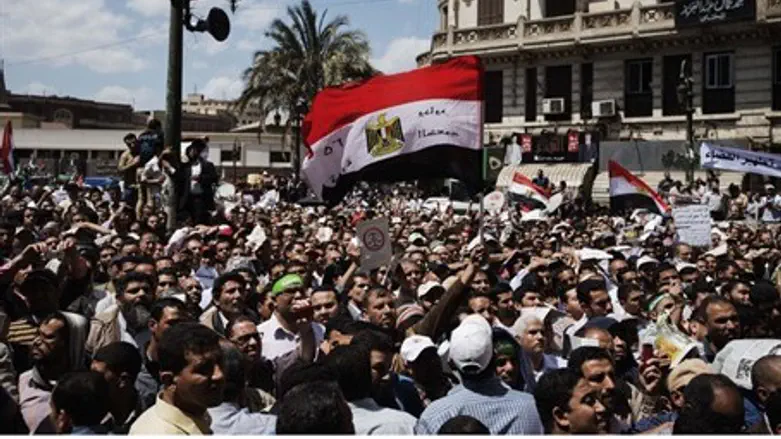 Muslim Brotherhood supporters protest in fron
AFP photo
The White House condemned on Monday the "bloodshed and violence" in Egypt  but took no immediate steps to suspend U.S. military assistance to the country, Al Arabiya reported.
White House spokesman Josh Earnest said the weekend violence, in which 80 people were killed in Cairo, sets back the process of democratization in Egypt and does not square with the interim government's pledge to swiftly return to civilian rule.
"The United States strongly condemns the bloodshed and violence" in Cairo and Alexandria, Earnest said in a statement quoted by Al Arabiya.
He urged the military-backed interim government to respect the rights of demonstrators.
Asked, however, if the violence would prompt the United States to suspend aid to Egypt's military, Earnest said, "I don't have any change in our posture to report to you today."
He indicated that aid is under review, as it has been since Egypt's military takeover on July 3.
Last week, the Obama administration told lawmakers that it does not plan on defining the overthrow of Egypt's government as a coup. This will allow the United States to continue providing $1.5 billion in annual military and economic aid to Egypt.
The announcement came just a day after Washington delayed delivery of four F-16 fighter jets to Egypt. It was the first U.S. action since the military ousted President Mohammed Morsi.
A U.S. law requires denying assistance to a country "whose duly elected head of government is deposed by a military coup d'etat." The White House, however, has been cautious about calling the Egyptian military's ouster of Morsi a "coup," noting that it will need to "review what has taken place."
U.S. Secretary of State John Kerry expressed "deep concern" on Saturday over the "bloodshed and violence" in Egypt that has killed and injured scores, saying the country faced a "pivotal moment."