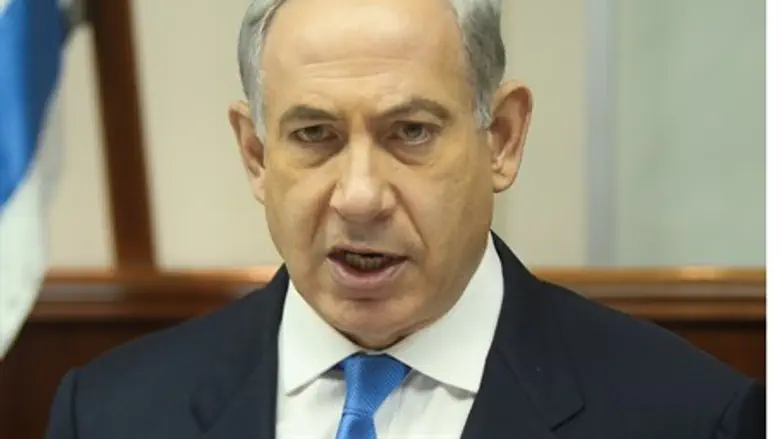 PM Binyamin Netanyahu
Flash 90
The Cabinet has passed a referendum bill that will require the approval by the entire citizenry of Israel before any agreement with the Palestinian Authority can be authorized.
Passage of the bill means the government cannot approve any territorial compromise or "land swap" with the PA without the deal first going to a nationwide referendum.
"Any agreement, if it is achieved in negotiations, will be brought as a referendum," Prime Minister Binyamin Netanyahu said in explaining the bill on Sunday. "It is important that every citizen will directly vote on fateful decisions like these that determine the future of the state."
The vote came ahead of a tougher one: the discussion and debate over whether to free 104 terrorist prisoners, including 24 Israeli Arabs, all of whom have Jewish blood on their hands and are serving life sentences for murder.
Netanyahu has sought to secure passage of that release as a means of dragging PA Chairman Mahmoud Abbas back to the negotiating table. 
Abbas agreed to restart direct talks in his final meeting with U.S. Secretary of State John Kerry prior to the secretary's departure from the region a week ago.
Netanyahu agreed as a "good will gesture" to free 82 PA terrorist prisoners jailed prior to the signing of the 1993 Oslo Accords. 
But a few days ago Abbas began to balk, saying he would not join the talks, slated for next week in Washington, unless Israel "sweetened" the deal by freeing 24 Israeli Arab terrorist prisoners as well.
Facing stiff opposition to the entire proposal, Netanyahu told the ministers that difficult decisions must be made "for the good of the nation," – but also said the cabinet would vote separately on whether to release Israeli Arab terrorist prisoners. He noted that it was a "tough day" for him as well as for the families of the victims murdered by the terrorists listed for release.