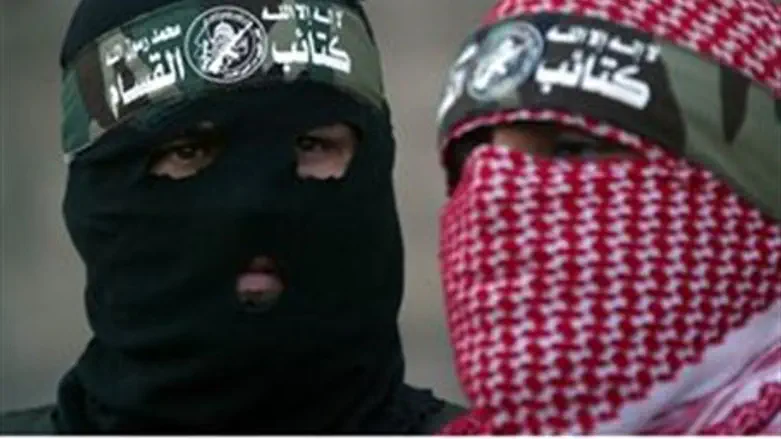 Terrorists (illustration)
Flash 90
The Almagor terror victims' organization has sent Prime Minister Binyamin Netanyahu a letter, on behalf of families whose loved ones were murdered in terrorist attacks, in which it protests his decision to release 104 terrorists in advance of peace talks with the Palestinian Authority.
In the letter, the families accuse Netanyahu of caving, once again, to demands from the international community in order to enter peace negotiations.
"Netanyahu in his letter to the public tries to explain his capitulation to terrorism and his alarming willingness to release more murderers with blood on their hands. These are the most heinous killers," wrote Almagor.
"Again it seems that when a difficult moment came, the Prime Minister caved and did not withstand the pressure. It seems that the Nobel Peace Prize which is winking to Obama and Kerry overshadows any moral and reasonable consideration, and Israel is pressured again into failed negotiations, the disappointing results of which may bring about another circle of violence," wrote the terror victims' families.
The families claimed in the letter that they were recently promised that terrorists will not be released for peace talks. Among other things, they note, MK Ofir Akunis (Likud) was sent to meet the families and reassure them that the issue is not on the agenda. "Akunis was sent to deceive the bereaved and hurt families in order to stop the struggle we started," they said.
The families noted that they repeatedly asked to meet Netanyahu or his staff ahead of Sunday's vote on the release, but were refused time after time.
"We will come to the Cabinet meeting tomorrow to express our opposition and our views on this release and demand that negotiations without preconditions will truly be negotiations without prior caving in to pressure," wrote the families. "We will not agree that more and more families will join, against their will, the ranks of the bereaved families and victims of terrorism."