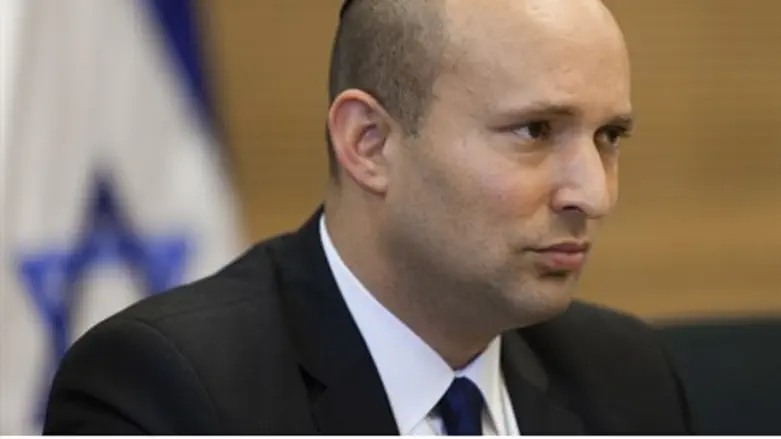 Naftali Bennett
Israel news photo: Flash 90
Minister Naftali Bennett, head of the Bayit Yehudi (Jewish Home) faction, sent a message of encouragement to his supporters on Friday, telling them not to be worried by doomsday proclamations in advance of the Israeli-Palestinian Authority negotiations which are to begin next week.
"They're trying to scare us," he wrote. "'Without giving up the land, there will be terrorism. There will be a demographic problem. There will be international isolation. There will never be peace,'" he quoted opponents as saying.
"It's always another excuse. Even when we see that it's actually concessions that bring terrorism, that hurt our international reputation, that bring us further from peace, they are looking for the next excuse," he charged.
"Fear paralyzes," he warned. "If we had listened to those who tried to scare us in previous generations, we would have stayed in the Arab world and in Europe, and we would have continued to be obliterated there."
"The land of Israel and the state we established are ours. We came back after thousands of years of longing and repeated attempts. We have to declare this to the world," he concluded.
Bennett also urged his supporters not to be upset by the election of two hareidi-religious candidates, Rabbi David Lau and Rabbi Yitzchak Yosef, to the Chief Rabbinate.
Bayit Yehudi had supported religious-Zionist candidates in the hopes of promoting reform in the Rabbinate.
"We really hoped to make change through the Rabbinate. We didn't succeed," Bennett admitted on Facebook.
"But we can't get depressed now, or start hurling accusations," he continued. The Bayit Yehudi party "is working daily on behalf of the people of Israel," he said. "Sometimes we will succeed, and sometimes not."
"Chin up," he declared.