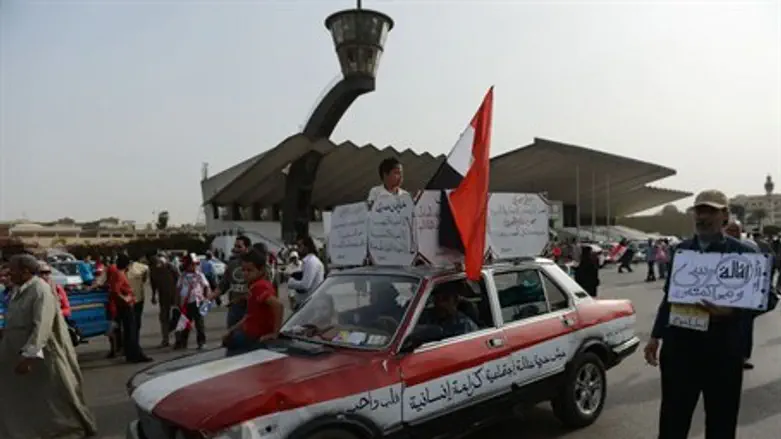 Egyptians show support for military
AFP photo
The Obama administration told lawmakers on Thursday that it does not plan on defining the overthrow of Egypt's government as a coup, according to the Associated Press.
This will allow the United States to continue providing $1.5 billion in annual military and economic aid to Egypt.
According to U.S. officials, William Burns, the State Department's No. 2 official, held closed-doors briefings with House and Senate members on Thursday, just a day after Washington delayed delivery of four F-16 fighter jets to Egypt. It was the first U.S. action since the military ousted President Mohammed Morsi.
A U.S. law requires denying assistance to a country "whose duly elected head of government is deposed by a military coup d'etat." The White House, however, has been cautious about calling the Egyptian military's ouster of Morsi a "coup," noting that it will need to "review what has taken place."
Lawmakers told AP the administration hasn't characterized the upheaval as a coup, and may never do so, as it remains determined to continue providing Egypt with aid. That assessment supported administration officials who said they were not using that word to describe the power change and do not plan to in future as Egypt moves to restore civilian governance and holds new democratic elections.
Sen. Bob Corker of Tennessee, the top Republican on the Senate Foreign Relations Committee, said legislators were looking at making the U.S. coup law more flexible for similarly ambiguous cases in the future by adding waivers or conditions to help the administration.
In Egypt's case, Corker conceded, "It may never be determined what just happened."
Two weeks ago, Obama ordered a review of U.S. assistance to Egypt's government, just hours after officials confirmed that the U.S. plans to deliver F-16 fighter jets to Egypt will go ahead despite Morsi's overthrow.
Republican Senators John McCain and Lindsey Graham have called on the Obama administration to cut off the aid the U.S. provides to Egypt.
"Not all coups are created equal, but a coup is still a coup," the two wrote in the Washington Post several weeks ago. "Morsi was elected by a majority of voters, and U.S. law requires the suspension of our foreign assistance to 'any country whose duly elected head of government is deposed by military coup d'état or decree . . . in which the military plays a decisive role.'
"We find it hard to describe the situation in Egypt any other way. Congress should review this law to determine whether it serves our national interests, but at this time we believe the United States must suspend assistance to Egypt," wrote the two senators. "This is a difficult decision, but if we expect Egypt and other countries to abide by their laws, then we must abide by ours.