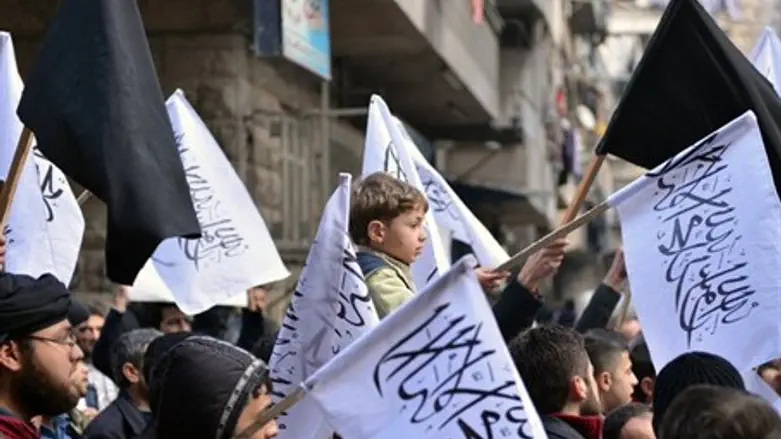 Syrian supporters of Al-Nusra march in Aleppo
AFP photo
Britain's Channel 4 aired an exclusive story this week about British citizens who have travelled to join the fight to oust Syrian President Bashar Al-Assad inside rebel-held territory in the country's north.
The story followed a woman calling herself "Maryam" who travelled from Britain to marry a rebel fighter from one of the jihadist rebel groups.
Maryam's marriage to her fighter husband, Abu Bakr, was arranged by his mother three months ago. She didn't meet him until after they were married, according to Channel 4.
Until her recent departure from the UK for Syria she lived what she describes as an okay life.
She and her husband are shown raising a child together, and are now expecting another. They say that their long-term objective is what they see as the liberation of Syria, followed by the establishment of an Islamic caliphate.
Abu Bakr fights with the Sunni jihadi militia known as Katiba al Muhajireen, whose members fight alongside bigger Islamic groups such as Ahrar al-Sham and the al-Qaeda affiliated Jabhat al-Nusra.
The leader of Jabhat Al-Nusra recently declared that his group is in favor of establishing an Islamic caliphate in civil war torn Syria.
Maryam told Channel 4 she has no plans to return to the UK, ever, even if her new husband is killed in battle.
"I will stay here because I didn't come here for him. I wouldn't like to go back to the UK. I'll stay here, raise my children, focus on the Arabic language to communicate with the Syrian people," she said.
She called on other Muslims to "wake up and stop being scared of death... we know that there's heaven and hell. At the end of the day, Allah's going to question you. Instead of sitting down and focusing on your families or your study, you just need to wake up because the time is ticking."