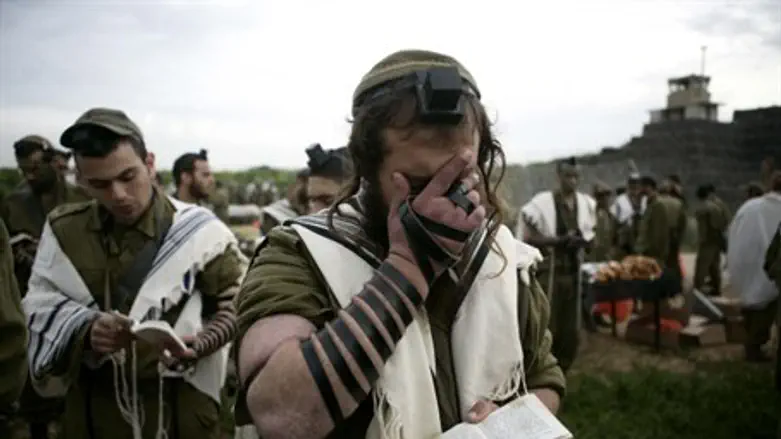 Hareidi-religious soldiers
Flash 90
The Equal Burden Bill, which will see hareidi-religious yeshiva students drafted by the IDF, passed a first reading just this week, but the Air Force is already preparing to get more hareidi-religious recruits. Commanders took an inside tour of hareidi communities in Jerusalem in hopes of better understanding their newest soldiers.
"There are nearly 300 hareidi-religious soldiers in the Air Force, and that number is increasing. As military commanders in Israel, we ought to be familiar with this community and know how to interact," explained Lieutenant-Colonel Tziki Shechter.
The goal of the tour was to create "a direct acquaintance with a large and growing sector of Israeli society," Shechter said.
The commanders met with leading figures in the Jerusalem hareidi community and spoke with them about the hareidi-religious view of Torah study and of military service. The group also toured Belz Chassidic institutes.
"It was one of the most interesting workshops I've been to," one commander said afterward. "The discussion of hareidi-religious Jews in Israeli society is very big these days, and seeing the hareidi world created the need within me to learn more, so that I can have an in-depth understanding of hareidi soldiers."
Hareidi soldiers have been serving in Air Force technical units for several years. Recently the Air Force got its first hareidi combat soldiers as well.
The new hareidi combatants were sworn in to service on Wednesday. They will serve in the Negev, where they will defend IAF bases.
The bases are in the last stages of preparation for the hareidi soldiers' arrival. "The synagogue is ready, and the mess hall will be strictly kosher very soon," said Major Elad Dadon, the commander for ground defense at the Nevatim base. He added, "We're looking forward to their arrival."