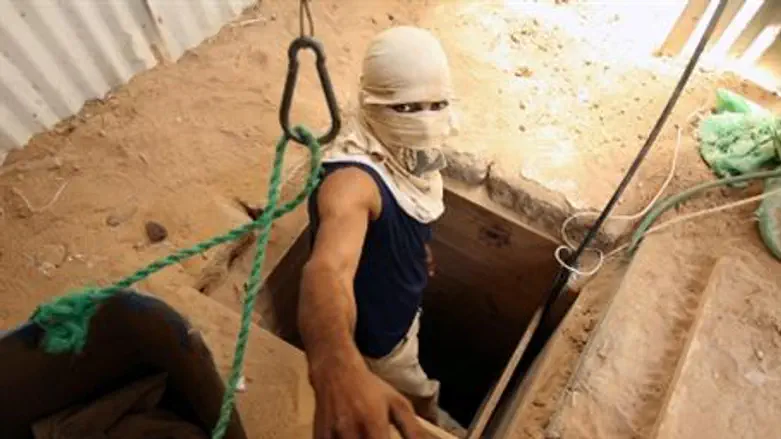 Terrorist and tunnel
Israel news photo: Flash 90
About 80 percent of tunnels used to smuggle goods and arms into Gaza from Egypt are "no longer functioning" due to a crackdown by the Egyptian military after it ousted President Mohammed Morsi, a United Nations official said Tuesday, according to Reuters.
The UN's Middle East peace envoy, Robert Serry, told the Security Council that Gaza was experiencing "some serious shortages of fuel and basic building materials for which the tunnels had become the primary entry point due to severe restrictions on imports via the official crossings."
Since the Egyptian military overthrew Morsi, whose Muslim Brotherhood movement is the parent movement of Hamas which rules Gaza, it has been operating in the Sinai to eliminate terrorist cells who take advantage of the lawlessness in the region to carry out terrorist attacks. As part of these operations, the army has also been shutting down the smuggling tunnels, which are used to transfer goods, weapons and even terrorists between the Sinai and Gaza.
"As a result of these actions against illegal activity, according to some estimates, 80 percent of the tunnels are no longer functioning," Serry told the Security Council.
Hamas, which taxes much of the traffic through the tunnels, has been hit hard by the losses, according to Serry.
"While the only Israeli crossing for goods ... has remained open and is handling increased quantities of consumers' goods, we are concerned that already difficult economic and humanitarian conditions in Gaza will further deteriorate, if access into Gaza through legal crossings of basic commodities like building materials is no liberalized," he warned.
Gaza's Hamas terrorist rulers constantly claim that they need the smuggling tunnels because the region is under an "Israeli siege". However, they ignore the fact that Israel continuously allows humanitarian aid into Gaza. Israel has approved hundreds of internationally funded and monitored projects in Gaza.
Meanwhile, Hamas is the one that has tried to punish the residents of Gaza by attempting to reduce the scope of Israeli goods entering the region. Hamas does this because it is angry that Israel and the Palestinian Authority cooperate over what is transferred into Gaza, ignoring Hamas which rules the region with an iron fist.
Ala Al-Rafati, Hamas's economy minister, said on Sunday that the tunnel closures since June had cost Gaza around $230 million, around a tenth of its GDP.
"The continued restrictions threaten to bring construction projects to a complete halt," he said, referring to cement that has been brought through the tunnels.