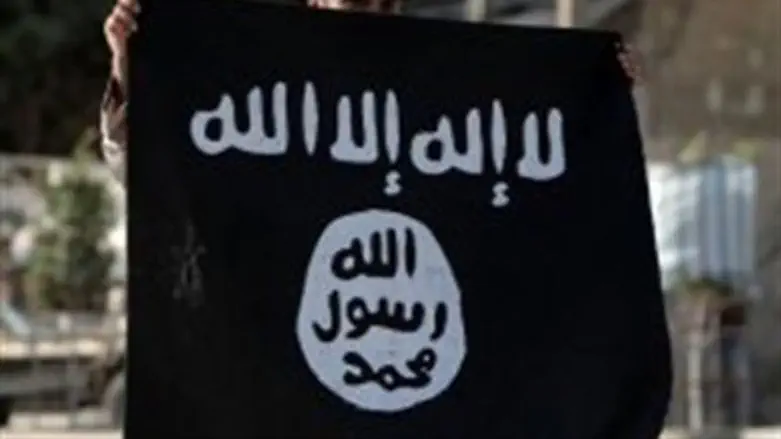 Al Qaeda Flag
AFP photo
A passport said to belong to an American citizen was found at a base abandoned by an al Qaeda affiliate that operates in Syria, the Long War Journal reports. The passport was found together with other identification documents belonging to foreign fighters who have been fighting against the forces of Bashar al Assad inside Syria, at a base abandoned by an al Qaeda affiliate named "the Islamic State of Iraq and the Levant."
The American passport reportedly belongs to Amir Farouk Ibrahim, who was born in Pennsylvania on Oct. 30, 1980.
Ibrahim also reportedly possesses an Egyptian passport, issued under the name Amir Farouk Zaki Ibrahim. His Egyptian passport also states that he was born in the United States.
Ibrahim's passport was among 15 other pieces of identification recovered by the Syrian Observatory for Human Rights, a group that reports on the Syrian civil war, in the city of Ras al-Ein." SOHR reported on its Facebook page that the documents "belong to several non-Syrian men from Western and Arab countries."
SOHR gave a breakdown of the nationalities of the people identified by the documents as follows: one dual citizen, of the US and Egypt (Ibrahim); one individual from each of Qatar, Bahrain, and United Arab Emirates; two each from Iraq, Turkey, and Tunisia; and two from Saudi Arabia (although two of the three passports from Saudi Arabia appear to identify the same person). Another document appears to identify a man born in Egypt.
SOHR stated that "[t]he documents were found after the ISIS retreated from the town after intense clashes last week with the YPG," a Kurdish militia tied to the PKK, which has been fighting for Kurdish autonomy in northern Syria. The Islamic State of Iraq and the Levant, which is referred to by the acronyms ISIS or ISIL, has been battling the YPG for control of a border crossing point and several towns in northern Syria.
"We do not know the fate of the owners of these documents, whether they are dead or alive and still active in Syria," the SOHR concluded.
The Long War Journal noted that Al Qaeda and other jihadist groups "often collect travel documents and identification cards of recruits after they join the fight in new countries."
If Ibrahim's identity as an American citizen is confirmed, it added, he would be the second American known to wage jihad in Syria in the ranks of al Qaeda. Eric Harroun, a former US soldier, is in US custody and is charged with fighting alongside the Al Nusrah Front, another al Qaeda affiliate in Syria.
Al Nusrah was at one point the largest Salafi Islamist group operating in Syria, but it has recently been largely subsumed by ISIS.
Earlier this month, the Canadian National Post reported that it had spoken to a 22-year-old Canadian citizen who left Calgary eight months earlier for Syria, where he is now known as Mustafa Al-Gharib.
He was previously known as Damian Clairmont, of Calgary, and converted to Islam following a suicide attempt at age 17. After he left Canada last November, CSIS officers told his mother he had gone to Syria and was part of an extremist group they had been monitoring for two years.
"I'm not up for speaking to journalists," said Clairmont/Al-Gharib in the phone conversation with the Post's reporter. "I don't really care what people think, it's not important. It's between me and God and that's it."