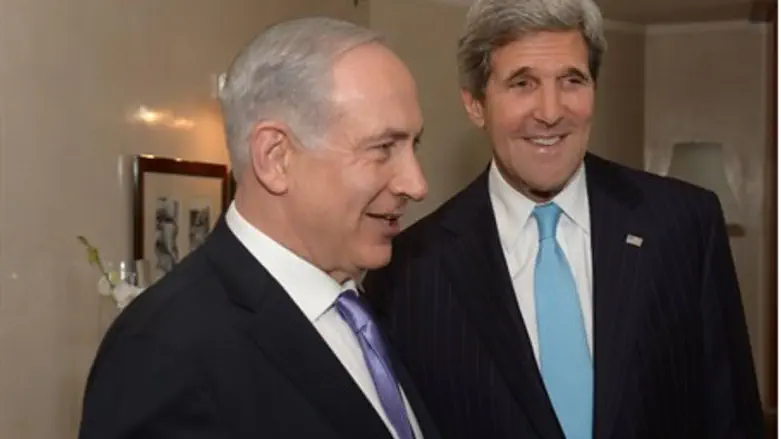 Netanyahu and Kerry meet in Jerusalem
Amos Ben Gershom/GPO/Flash 90
While some have welcomed the announcement that Israel and the Palestinian Authority will resume talks, a growing number of ministers and MKs have expressed concern over the promises that Prime Minister Binyamin Netanyahu is rumored to have made in order to win PA Chairman Mahmoud Abbas' agreement to negotiate.
 MK Miri Regev, a member of Netanyahu's Likud party, called Sunday for an urgent meeting of the Knesset's Foreign Affairs and Defense Committee to address the issue.
"In wake of [U.S. Secretary of State] Kerry's announcement in Amman regarding the renewal of negotiations with the Palestinians, I am calling on the Prime Minister to bring the essential points of the renewal of talks to the Knesset's Foreign Affairs and Defense Committee for approval," she said.
"I should note that since Justice Minister Tzipi Livni is responsible for oversight of the talks with the Palestinians, I request that she, too, come and give a report regarding the renewal of talks," Regev added.
"I want an urgent meeting on the matter because of the various reports saying that Israel agreed to negotiate based on the 1967 lines, and that there is agreement to an Israeli gesture to Abu Mazen [Abbas' nom de guerre – ed.] involving the release of 'serious' Palestinian prisoners who were involved in acts of terror and murder of Jews, prisoners who pose a threat to Israel's security," she continued. "We will demand that the Prime Minister clarify the truth."
"I wish to emphasize that the deliberation on an agreement based on the 1967 lines is dangerous to Israel's security and to the future of Jewish settlement in Judea and Samaria," she added.
Members of the Bayit Yehudi (Jewish Home) part, including ministers Naftali Bennett and Uri Ariel, have expressed concern as well. Ariel warned that if reports regarding Netanyahu's concessions to Abbas were true, "this is a serious mistake."
There have been several reports regarding Netanyahu's promises to Abbas, who formerly listed several preconditions to talks, among them the release of terrorist prisoners held by Israel and a complete ban on construction of new housing for Jews living east of the 1949 armistice line.
Some foreign papers have said that Netanyahu agreed to base talks on the "1967 lines," meaning the 1949 armistice line. Others report that Netanyahu promised to free terrorist prisoners prior to his first meeting with Abbas. Some reports say Netanyahu agreed to an unofficial building freeze in Judea and Samaria, as well.
According to Maariv/nrg, Abbas continued to refuse talks despite concessions from Netanyahu, until Kerry warned him that his refusal would mean a cut to U.S. financial assistance to the PA. The PA relies heavily on foreign support.