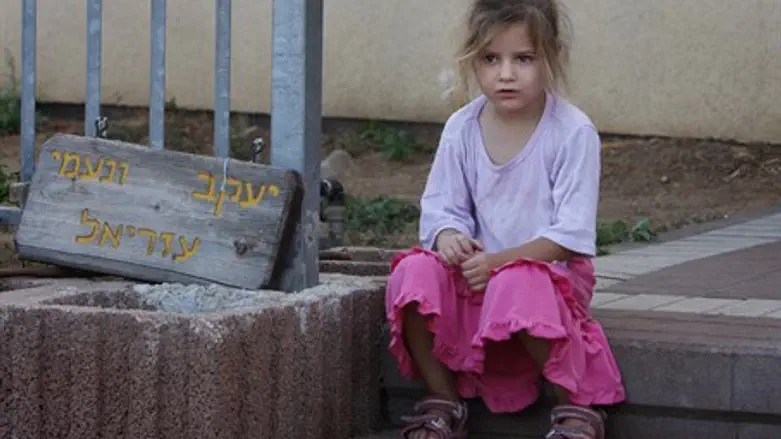 Gush Katif Evictee (August 05, 2009)
Flash 90
Precisely eight years ago, on the day after Tisha B'Av, 2005, the State of Israel began carrying out the Disengagement Plan, in which it uprooted close to 9,500 Jews from the Gush Katif area of Gaza, and from the northern Samarian communities Homesh and Sanur.
Although eight years have passed since then, and three years have passed since an official commission of inquiry determined that the state failed in its treatment of the evictees, 50% of those evicted are still without permanent housing, according to the statistics presented by the Council for Gush Katif Evictees.
According to the Council, 1,450 families remained a part of the Gush Katif community after the expulsion. Of these, about 670 families completed the construction process and moved into a permanent home. Of 1,100 families that are entitled to housing and have purchased a developed plot, about 150 will have difficulty completing the construction due to personal or financial problems, or emotional difficulties. Of these families, 60 require financial assistance for completing the construction process.
Unemployment is high among Gush Katif expellees, too. The unemployment rate stands at 16%, compared to just 4% in Gush Katif itself prior to the "disengagement." While that presents a significant drop from the more than 30% who were without a job in the expulsion's immediate aftermath, it is still high, especially among people aged 55 and upward.
Farmers with no land
Others have found work but have had to leave their former professions.
Out of about 390 agricultural families from Gush Katif, only about 190 have received land. About 50 farmers are still waiting for agricultural land that was promised them in the negotiations that led up to the signing of an agreement with the state, about a year ago.
About 150 farmers received compensation and have left the agricultural sector.
Eliezer Orbach, Chairman of the Council of Evictees, declared Wednesday that the State of Israel has "failed" in its treatment of the evictees.
Benny Katzover of the grassroots Council of Samaria Residents said: "Today, it is clearer than ever that the crime of eviction was an act of stupidity, security-wise.
"The failed treatment of the people of Gush Katif and northern Samaria proves, to those who had any doubts, that the eviction and the rehabilitation were both carried out hastily, in order to cover up criminal acts by the Sharon family."
There have been persistent allegations that Ariel Sharon, who was Israel's Prime Minister during the Disengagement, agreed to carry out the move as part of a deal between him and elements in the judicial system.
The alleged deal involved the non-prosecution of Sharon and his sons for bribery in a sordid affair known as "the Greek Island scandal."