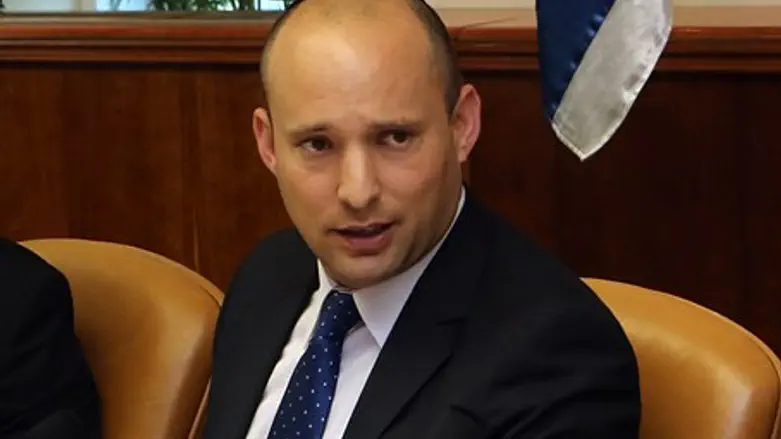 Naftali Bennett
Israel news photo: Flash 90
The European Union's decision to boycott Israeli bodies located beyond the 1949 Armistice lines is nothing short of economic terrorism, Economy Minister Naftali Bennett (Bayit Yehudi) said on Tuesday.
Speaking to Channel 2 News, Bennett said, "This is an economic terror attack against peace. If the Europeans want to be involved in the diplomatic process, they should stop taking unilateral actions."
The European Union has issued orders forbidding its member states from cooperating, transferring funds, giving scholarships or research grants to bodies in Judea and Samaria, eastern Jerusalem, and even the Golan Heights.
The new guidelines, promulgated by the European Commission, which is the operative arm of the EU, will go into force on July 18.
Despite the strong message the EU wishes to send to Israelis with the ban, Bennett also sought to reassure the public, saying that "This is not a political tsunami. The world has been boycotting us for 65 years. I say: you want to be involved in the diplomatic process? Please stop the unilateral steps."
Bennett reiterated, "No one, including Catherine Ashton, will be able to force us to hand over parts of Jerusalem to our enemies."
Prime Minister Binyamin Netanyahu denounced the EU's new guidelines, saying he expected those concerned about world stability to first deal with more pressing issues like Syria's civil war and Iran's nuclear program. 
"As Israel's prime minister, I will not allow hundreds of thousands of Israelis living in Judea, Samaria, the Golan Heights and our united capital of Jerusalem to be harmed," he said after holding a meeting on the issue with Bennett, Justice Minister Tzipi Livni and Deputy Foreign Minister Zeev Elkin.
"We will not accept any external dictates regarding our borders," he said, adding that "the issue will be decided only in direct negotiations" between Israel and the Palestinian Authority.
The Legal Forum for the Land of Israel called on the Israeli government to respond to the boycott by implementing the findings of the Levy Report, which concluded that there is no "occupation" and international law allows Jews to live in Judea and Samaria, as its status was not that of a nation in 1967.