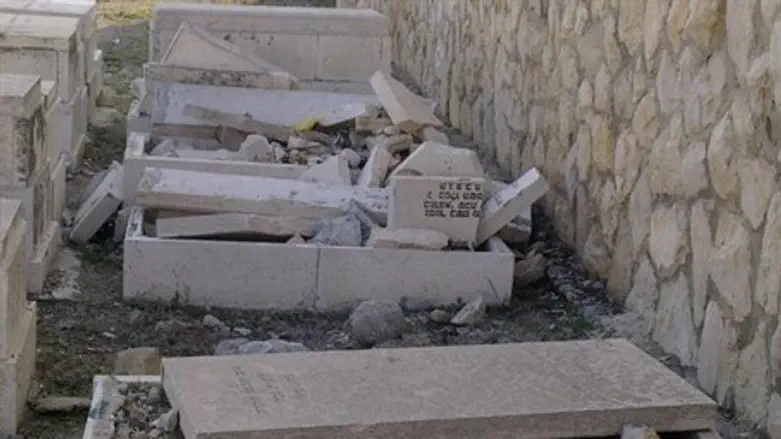 Desecration at Mount of Olives
Itamar Oren
There were over 300 instances of rock attacks and other forms of harassment against Jews visiting the Har Hazeitim (Mount of Olives) Cemetery in the last year, and the police post established on Har Hazeitim has failed to reduce the level of violence there, according to evidence presented by activists at the Knesset Tuesday.
Moreover, there are reports that Arab violence is spreading, from the Mount of Olives itself to the roads leading up to it.
The information was reported at a meeting held Tuesday in the office of MK David Azulai (Shas), with the participation of representatives from the Hareidi Forum for Har Hazeitim – including MK Azulai and MK Menachem Eliezer Mozes (United Torah Judaism) – and Acting Jerusalem Mayor Rabbi Yosef Deitsch.
The meeting was convened at the request of the representatives of the Council for Protection of Har Hazeitim, headed by Attorney Harvey Schwartz and Jeff Daube, Director of the Israel Office of the Zionist Organization of America.
The participants were informed that despite the establishment of a permanent police post on the Mount of Olives, in response to incessant pressure by the public and by the Council for Protection of Har Hazeitim, the police have failed to deliver on their promises to provide security.
Instead of 24-hour police patrols and a beefed up presence, there are only two policemen at the post at any given time, and they have proven unable to meet the security needs posed by the site.
The participants agreed to step up pressure on the police to carry out their duty of keeping people safe when they come to visit their relatives' graves at the ancient Jewish cemetery. Legislation to enhance the safety at the site is also being considered.
Dozens of additional closed circuit cameras will be placed at the site, beside the 142 cameras already in place.
In addition, Rabbi Shmuel Rabinovich, the Rabbi of the Kotel and Holy Places, has thanked the Council and promised to use his influence to assist them in their actions.