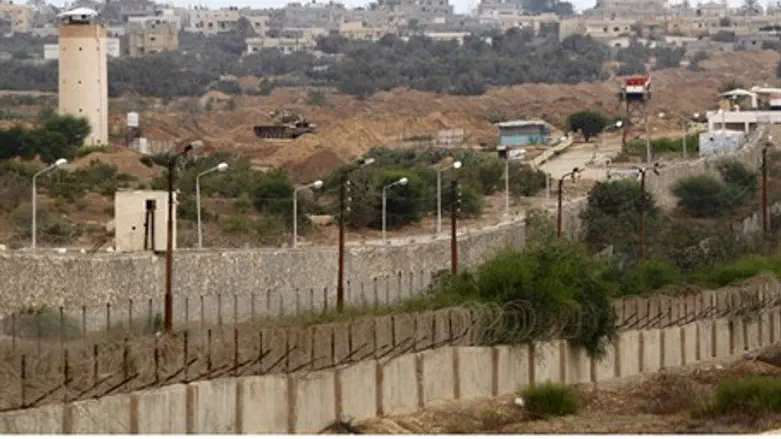 Egyptian soldiers in a watch tower on the bor
Flash 90
Two people were killed on Tuesday night as gunmen attacked a security checkpoint in Egypt's Sinai Peninsula. As well, a police base elsewhere in the peninsula came under mortar fire.
Al Jazeera cited local medics and security officials as having said one of the dead appeared to be a civilian whose car was hit by a grenade. They did not identify the other casualty.
The checkpoint, in the middle of the peninsula, was manned by soldiers and police, they said, according to Al Jazeera.
Near the north Sinai border town of Rafiah, militants attacked a police base with mortar rounds and a truck-mounted heavy machine gun, and also attacked another police checkpoint in the town of El-Arish, 27 miles west of Rafiah.
The Sinai has seen an upsurge in lawlessness since the ouster of former President Hosni Mubarak in 2011 that has sparked warnings from Western governments against travel to most parts of the peninsula.
The violence in the area has been on the rise in the past week as local terrorists capitalize on instability following the removal of President Mohammed Morsi by the army.
On Sunday, an Egyptian soldier was killed by unidentified gunmen in El-Arish.
Earlier in the day, armed men attacked four security checkpoints in the town of Sheikh Zuweid, close to Egypt's border with Israel and Gaza.
On Friday, five security officers were killed in skirmishes with Islamist terrorists in El-Arish.
On Saturday, a priest was also killed there by a group of militants, four other checkpoints were fired upon and an explosion hit an Egyptian pipeline supplying gas to Jordan.
The Egyptian Army announced a major operation in the Sinai Peninsula following the terror attack on the natural gas pipeline.
Egypt's military last week boosted its presence in the Sinai Peninsula, in a move that was coordinated with Israel as is required under the terms of the peace treaty signed between the two countries in 1979.