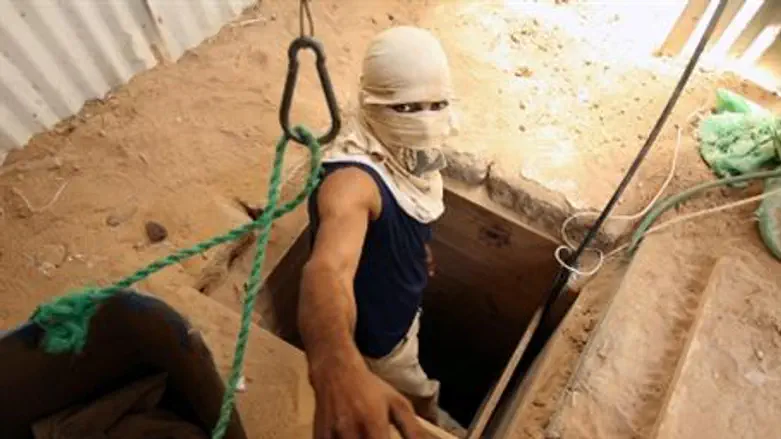 Terrorist and tunnel
Israel news photo: Flash 90
As the death toll rises in clashes between Egypt's army and pro-Morsi protesters, Muslim Brotherhood-linked Gaza terrorists are infiltrating the Sinai to attack Egyptian army outposts.
Although the army has sealed at least 50 tunnels in the past two weeks, hundreds remain open and active under the border between Egypt and Gaza.
A senior Egyptian official told the London-based Al-Hayat newspaper on Saturday that at least 150 Izz a-Din al-Qassam operatives – members of the Gaza-based Hamas military wing – were seen heading into Sinai via the tunnels. "They were wearing uniforms associated with the military police before joining jihadists in Sinai, the source was quoted as saying.
Egyptian army forces also told the Bethlehem-based Ma'an news agency that 14 members of jihad groups were arrested in Sinai on Sunday during an operation in El-Arish. Army sources told the news agency that among those arrested was one Palestinian Authority terrorist who allegedly confessed that he intended to cooperate with other jihadists in Sinai in order to assassinate Egyptian army soldiers.
Hamas, which was started by the Muslim Brotherhood, meanwhile denounced in a statement on Monday an attack against supporters of ousted Egyptian President Mohamed Morsi, and sent condolences to the victims' families. At least 42 people were killed and 322 wounded in an attack on protesters outside an elite army base in Cairo, Ahmed al-Ansari, deputy head of emergency services, told the AFP news agency.
Armed Morsi supporters also kidnaped two soldiers in Cairo, according to the state news agency MENA, quoting an army official. Both were dragged into a vehicle and forced to make pro-Morsi and anti-army statements via a loudspeaker, the official said.
In further violence, at least one Egyptian soldier was killed Monday in an attack on an Egyptian army outpost near the El Arish beach in northern Sinai, according to Ma'an. Terrorists opened fire at a security checkpoint, where Abed al-Wahid al-Sayd was shot in the head by a sniper, a security source told the Palestinian Authority-linked news outlet. The source said it was likely the terrorists belonged to a jihadist organization. 
Three security checkpoints and a police station were also attacked on Monday, leaving 22-year-old police officer Samih Mohammad with a gunshot wound in the leg. One of the terrorist groups fired a rocket-propelled grenade (RPG) towards El-Arish in a ten-minute firefight.
The Israeli government has warned its citizens not to travel to the Sinai Peninsula at this time, not even to the Taba resort area near the Red Sea, near the border -- and those Israelis who are already in Sinai, to leave immediately due to concrete warnings of terrorist attacks.