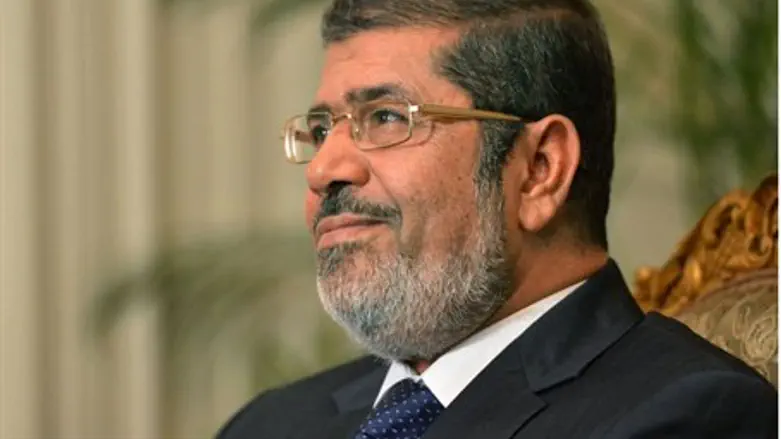 Mohammed Morsi
AFP photo
A spokesman for the Muslim Brotherhood in Egypt tweeted Wednesday that a "full military coup" was under way.
The BBC  said that armored vehicles were on the streets of Cairo.
AFP cited security officials who said that Egyptian security forces imposed a travel ban on Morsi and several top Islamist allies over their involvement in a prison escape in 2011.
Airport officials confirmed to AFP that they had received orders to prevent the leaders -- including Morsi, Muslim Brotherhood chief Mohammed Badie and his deputy Khairat al-Shater -- from travelling abroad.
As the 48-hour deadline from the military to comply with protesters' demands ended, Egypt's President Mohamed Morsi proposed a consensus government as a way out of the country's crisis, reported Al Jazeera.
"The presidency envisions the formation of a consensus coalition government to oversee the next parliamentary election," Morsi's office said on Wednesday in a statement on Facebook.
The statement reiterated that Morsi held opposition parties responsible for obstructing a political initiative that would have set up a panel to prepare amendments to the Egyptian constitution.
Egypt's state-run Al-Ahram newspaper is predicting the military leadership will remove the president by force, if necessary, in order to resolve the political crisis that has developed.
Over the past few weeks, a groundswell of protests by demonstrators in cities around the country has grown from a few thousand to more than 22 million.
An expert from Ariel University predicted Wednesday that if Morsi is toppled, Egypt could face a series of "mini rebellions."