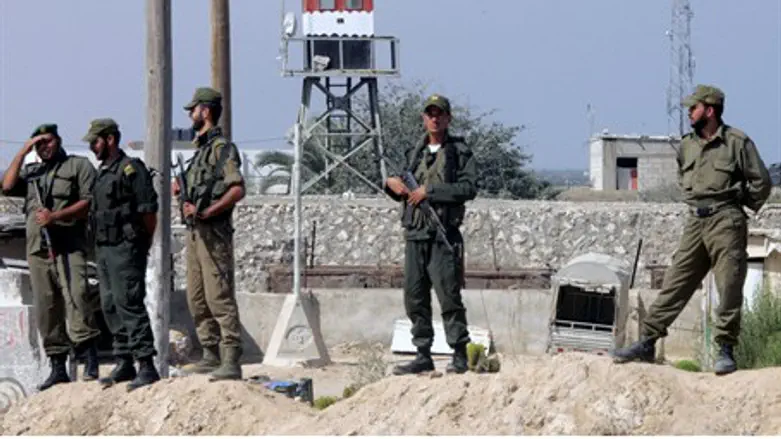 Hamas forces
Israel news photo: Flash 90
Prime Minister Binyamin Netanyahu told International Committee of the Red Cross (ICRC) President Peter Mauer on Monday of a recent case in which a Hamas prisoner freed on humanitarian grounds soon gloried in his return to terror.
The ICRC, which often advocates on behalf of prisoners in Israel, never once convinced Hamas to allow a representative to visit and check on the health and well-being of kidnapped Israeli soldier Gilad Shalit in the entire five-year period during which he was held captive in Gaza, ruled by the terrorist organization. 
The story related to Mauer on Monday by Netanyahu involves the case of Ayman Sharawna, a Hamas operative sentenced to 38 years in an Israeli prison for his part in the May 2002 terrorist attack on Be'er Sheva.
Sharawna was one of more than 1,000 terrorists released as part of the prisoner exchange deal that freed Shalit.
He was soon arrested again after returning to terrorist activity. But after engaging in a hunger strike, international organizations pressured Israel for his release on humanitarian grounds.
Among them was the ICRC, which expressed concern for his health, claiming that Sharawna would die if the prison authorities did not find an immediate solution. The ICRC also called on the Israeli Prison Service not to feed or otherwise medically treat the terrorist against his will.
Four months ago, an agreement was reached to expel Sharawna to Gaza – but that's not the end of the story, the prime minister told Mauer.
"One month ago, an article was published in which Sharawna gloried in his return to military activity in Hamas."