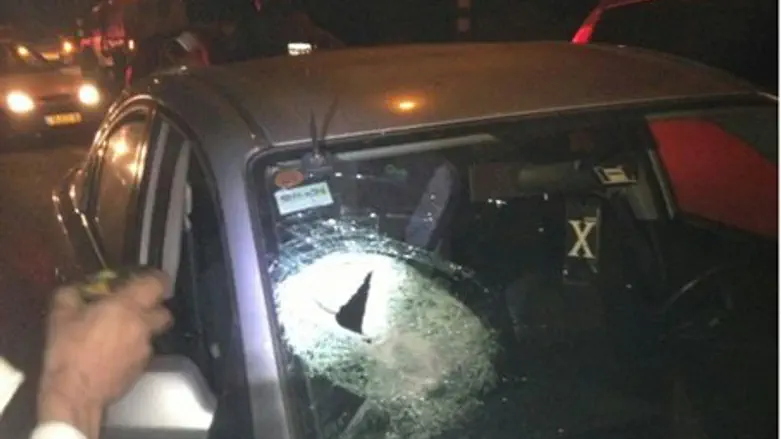 Car hit by rock
Ichud Hatzalah
Arab road terrorists threatened Israeli travelers Sunday evening in Judea (Yehuda) on the southern leg of Highway 60 between Jerusalem and Kiryat Arba.  
A homemade explosive device was hurled at a vehicle with Israeli license plates on from the Palestinian Authority Arab village of El Aroub, just south of Gush Etzion.
The improvised bomb struck the vehicle and exploded, causing extensive damage.
Miraculously, the three young women who were riding in the car were not wounded in the attack.
IDF soldiers fanned out to search for the terrorists, and an investigation is underway.
Also Sunday night, Latma satirical video film star Ronit Avrahamof Shapira and her family were targeted in a similar road terror attack north of Jerusalem in Samaria (Shomron).

Avrahamof Shapira, her husband Eliezer and their small children were ambushed by Arabs hurling large rocks ("the size of a nice grapefruit"). Smashing windows, shards of glass and blood covered parents, babies and the car as the family raced for safety towards the nearest IDF checkpoint.
The Latma star was slightly injured but her babies and husband escaped unharmed. Their attackers have not yet been caught.