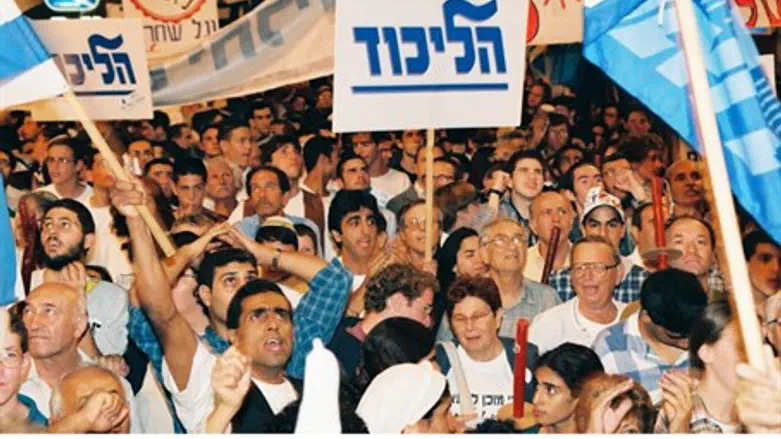 Likud
Flash 90
Transportation Minister Yisrael Katz was elected on Sunday for another term as the chair of the Likud secretariat.
About 80% of the 3,600 members of the Likud Central Committee took part in the elections for the Likud's institutions. In addition to the chairmanship of the secretariat, the members also chose who will preside over the central committee and the Likud bureau.
Official results have yet to be announced, but according to Kol Yisrael radio, Katz won 60% of the votes, with MK Miri Regev, who ran against him, receiving just 40%.
The race was a heated one, with Ministers Gideon Saar, Gilad Erdan and Silvan Shalom backing Regev over Katz, a veteran Likud member. Erdan attacked Katz over the weekend, saying that in his 11 years as head of the secretariat, he had paralyzed the institution and operated only according to his personal interests.
MK Regev responded to her loss by saying that she respects the decision.
"I respect the decision of the Likud Central Committee and I thank the members for their broad support which was achieved under difficult conditions, against a serving minister and chairman. I will continue to work towards strengthening the Likud," she wrote on her Facebook page.
Minister Katz thanked his supporters, saying, "We won! Thank you for your support and for placing your trust in me, despite the heavy pressure exerted on you. I pledge to take the Likud on a new path and prepare it for its victory in the next election."
In other results, Deputy Defense Minister Danny Danon was elected chairman of the Central Committee, while Deputy Foreign Minister Zeev Elkin was elected to head the Likud bureau, which outlines the party's ideology.
Last week, Danon was elected to head the Likud convention with an overwhelming majority of 85% of the vote.
Prior to the election, Danon said, "Today's results will tell us one thing: the Likud is going back to the people. We'll bring back the spirit, the young idealistic spirit of the Likud."
"I have just one goal here, and that is the good of the movement," he continued. "Today we are going to win the important position of head of the Likud committee, which is the heart of matters."
Danon has taken heat from fellow Likud members for his strong stance against the "two-state solution" and in favor of allowing Israelis to build in Judea and Samaria. He has voiced his views publicly even when they appear to oppose positions held by Prime Minister Binyamin Netanyahu.