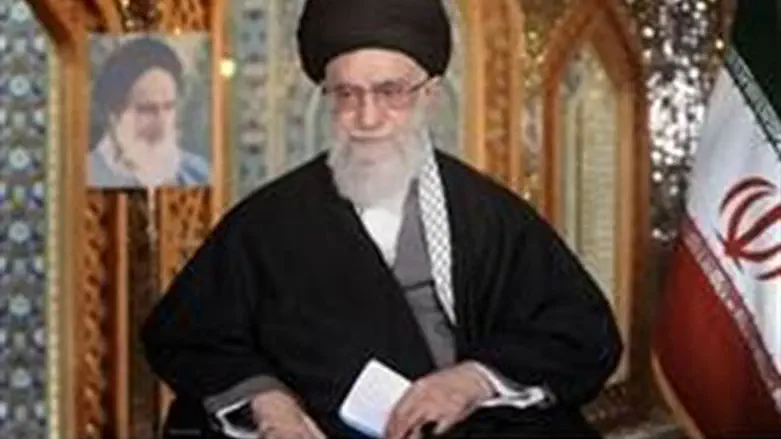 Ayatollah Ali Khamenei
AFP photo
Iran's Supreme Leader on Wednesday blamed the West for the standoff over the Islamic Republic's nuclear program.
Ayatollah Ali Khamenei said the standoff can be solved easily if the Western states stop their stubborn attitude, reported the Fars news agency.
"As I said on the first day of the New Iranian Year, a number of countries which comprise the opposition front against Iran and falsely call themselves as the international community stubbornly don't want the (Iranian) nuclear issue to be solved. But if they leave their stubbornness, Iran's nuclear issue will be solved easily and swiftly," Khamenei said, addressing a number of Iranian judiciary officials.
"Iran's nuclear issue has many times neared the moment of settlement, but Americans have raised new excuses then," he added, according to Fars.
Khamenei pointed to a written document signed by the International Atomic Energy Agency (IAEA) about the settlement of the problems in Iran's nuclear issue, saying, "Therefore, Iran's nuclear case should have been closed, but Americans raised new issues right away since they see the nuclear issue a proper point for threatening and pressuring Iran."
"Iran's nuclear activities are based on a strong rationale, but enemies aim to exhaust the Iranian nation and change the government by preventing the settlement of Tehran's nuclear issue. That's why they do not allow the (nuclear) issue to be resolved," he said, according to Fars.
Iran has held several rounds of talks with six major powers -- the U.S., China, Russia, Britain, France and Germany, known collectively as the P5+1, about its nuclear program. Each round has ended without results.
The P5+1 is particularly concerned about Iran's enrichment to levels of up to 20 percent and wants it to shut the Fordow fortified bunker where the sensitive activity is conducted. The group also wants Iran to ship out its existing stockpile of 20-percent enriched material.
Iran recently elected "moderate" Hassan Rowhani as the country's new president, but he stressed soon after his election that Tehran would not consider halting the country's uranium enrichment activities entirely.
Rowhani insisted that Iran's nuclear activities are "within the framework of law," and dubbed the international sanctions "baseless."
At the same time, Russia's Foreign Minister Sergey Lavrov hinted last week that Iran is prepared to halt its enrichment of 20-percent uranium.
Lavrov urged Western nations to end their sanctions against Tehran, which have hurt the Islamic Republic's economy and caused its currency to plummet to an all-time low.
The Islamic Republic has continued its nuclear program despite the sanctions, and it appears as though ordinary citizens have been hit the hardest.