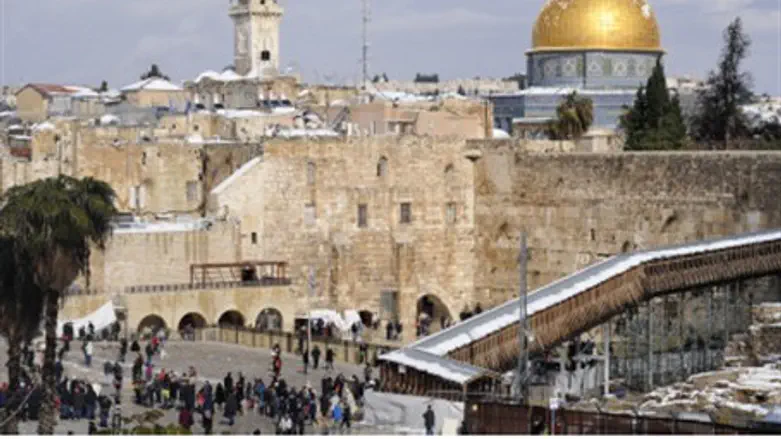 Temple Mount
Israel news photo: Flash 90
A Jerusalem court on Sunday ordered the release of a Jewish youth who had been arrested on charges of praying on the Temple Mount. The youth was also cleared of charges that he attacked an Arab during his visit to the Mount.
The youth was ordered to stay away from the Temple Mount for 15 days. However, the court rejected a request by police that the youth be prohibited from entering the Old City altogether for 60 days. The court said that although Jewish prayer on the Temple Mount was a thorny political issue that required deep study, it was certainly not a crime – and preventing Jews from praying there was a restriction of their freedom to worship, guaranteed in Israel's Declaration of Independence and the Knesset's Basic Laws. A similar ruling regarding Jewish prayer on the Mount was made several months ago.
The youth was represented by the Honenu rights organization. Attorneys for Honenu said that the youth had attempted to enter the area of the Temple Mount on Friday afternoon through the "Cotton Gate" in order to pray. During his prayers, an Arab youth began kicking him. The Jewish man said he kicked the Arab back, and was promptly arrested.
Despite the late hour, police took their time before bringing the youth to court, forcing him to remain in lockup for the entire Shabbat. On Saturday night police hauled him before a judge, and the court, after hearing the youth's story, castigated police for the way they handled the case, releasing the youth. In a followup hearing Sunday morning, the court rejected a police request to keep the youth out of the Old City. The court pointed out that in a recent riot by Arab women on the Mount, police did not request that they be keep off the Mount or out of the Old City for 60 days – or any days.
Itamar Ben-Gvir, the attorney representing the youth on behald of Honenu, said that the decision was "a very important one, and I hope police will study it carefully and internalize it. The right to pray in this country is not just for Women of the Wall, but also for Jews who would like to see the Temple rebuilt. The upshot of this decision is that it is not a crime to pray on the Temple Mount, and police attempts to stop prayers is what is against the law."