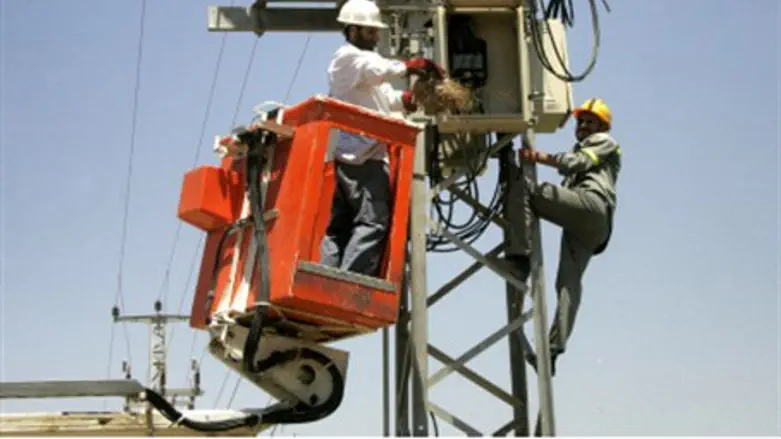 Gaza electricity workers.
Israel news photo: Flash 90
The Israel Electric Corporation (IEC) has put together a list of sanctions that it could impose on the Palestinian Authority (PA) if it does not pay its debt to the IEC, which currently stands at 820 million shekels.
The PA acquires 95% of its electricity in Judea and Samaria and 75% of its electricity in Gaza from Israel.
According to a document published on Channel 10 News on Thursday, the IEC is suggesting four possible measures against the PA in order to get it to pay the money it owes.
These measures include initiated blackouts in PA-assigned areas, stay of exit orders against debtors, taking the money from the taxes collected by Israel on behalf of the PA, and the cancellation of the license of the company that provides electricity in eastern Jerusalem.
It should be noted that only the political leadership has the authority to make decisions on the issue and determine the ways to collect the PA's debts.
The main argument of the IEC in formulating the sanctions is that there should be no discrimination between Israeli consumers who lose their power in case of debt, and PA Arabs who continue to enjoy electricity at the expense of paying consumers.
Last month, MK Orit Struk (Bayit Yehudi) challenged IEC Director Yiftach Ron-Tal during a meeting of the Knesset's Economics Committee. Struk asked Ron-Tal why the IEC does not cut off Palestinian Authority households that do not pay for electricity as it does for Israelis.
Ron-Tal told Struk he could not answer her question. "I cannot say why an Israeli citizen who does not pay for the electricity he uses is disconnected from the power grid, while a Palestinian is not, and keeps getting electricity without paying," he said.
"If we are told by the diplomatic staff to collect the debt from Palestinian consumers, we will be happy to do so," he added.
Former Energy and Water Minister Dr. Uzi Landau threatened several months ago that he would order the IEC to disconnect the power in the PA if the entity does not pay its debts.
Minister Gilad Erdan had also recommended that Israel cut power to Gaza in order to conserve electricity for its own use.
It is "absurd," said Erdan, that Israelis should suffer blackouts over the hot summer months while a "terrorist entity next door is supplied with electricity they don't even pay for."