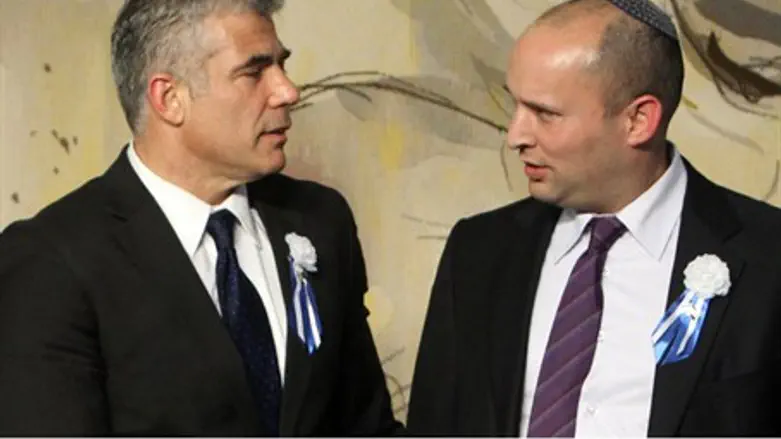 Lapid and Bennett
Flash 90
Finance Minister Yair Lapid (Yesh Atid) indicated on Wednesday that he disagrees with Economy Minister Naftali Bennett (Bayit Yehudi) about the idea of a Palestinian state.
"I think he's wrong ... Israel should strive for peace on the basis of two states for two peoples, and even though it is difficult we so must not give up and have to try again and again," Lapid told Channel 2 News.
Bennett said this week that the idea of establishing a Palestinian state has reached a dead end and should be forsaken.
"Never in the history of Israel has so much energy been invested in something so pointless," Bennett said at a conference on the Jewish residents in Judea and Samaria and their depiction in the media.
"We need to go from a situation in which we try to convince people that it is a bad idea, to one in which this idea is behind us," he said about the idea of a Palestinian state. "Anyone who travels around Judea and Samaria knows that what they say in the hallways of Oslo and Annapolis is detached from reality."
After the elections, Lapid and Bennett made a pact, agreeing to enter the coalition together or not at all, so they can guarantee a coalition ally with similar goals. This pact, however, was mostly based on their common goals when it comes to social issues, as the two parties are fundamentally different when it comes to the Arab-Israeli conflict.
While Bayit Yehudi is unequivocally clear about its opposition to a Palestinian state, Yesh Atid claims to be a centrist party but is put together from MKs of widely disparate political ideologies. Several of its MKs recently slammed the Jewish settlement enterprise in Judea and Samaria.
Last week, MK Ofer Shelah from Yesh Atid claimed that the communities in this region are an obstacle to peace and attacked the "Israeli occupation" of lands liberated during the 1967 Six Day War.
Previously, Welfare Minister Meir Cohen, also of Yesh Atid, said that "isolated settlements should be dismantled right now, without waiting for peace negotiations."
Cohen said, "These settlements cost us a lot of money and we can definitely partially dismantle them right now. Everything must be done to ensure that we are not thought of as doing everything possible to avoid negotiations. We must come to the negotiating table and to strive for peace."