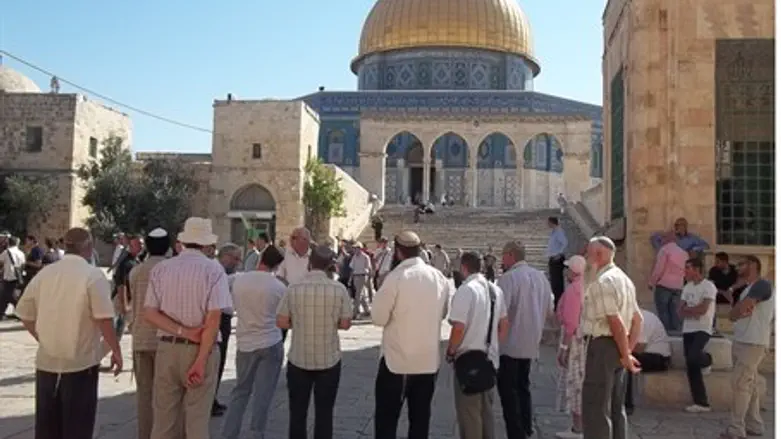 The Temple Mount
Israel news photo: Flash 90
Four Jewish teenagers were detained Wednesday after visiting the Temple Mount in Jerusalem. The arresting officer accused them of having bowed down, in violation of regulations at the site.
Rabbi Avraham Isaacs, who witnessed the events, denied that the four had prostrated themselves on the Mount.
The young men had obeyed police orders and stayed in a group, he said. At a certain point, they encountered a large group of Muslim men, who began yelling, "Allahu Akbar" at them.
The police officer who had accompanied them grew nervous and urged them to move on, Rabbi Isaacs said. He said the visit continued normally until they left the holy site, at which point the officer promptly arrested them.
Rabbi Isaacs said that he had not seen the young men bow. "This is a case of a police officer losing his cool. Attorneys must get involved to get them released quickly," he said.
Attorney Aviad Visoly denounced the arrest, arguing that the young men should not have been arrested even if they did bow. Jews are allowed to bow on the Temple Mount, he said, and doing so is "a Torah command and an elementary civil right."
Actually, he added, arresting defenseless minors for bowing on the Temple Mount is a serious crime called "wrongful arrest."
He recommended that anyone who has experienced wrongful arrest after visiting the Temple Mount file a claim for damages against police until they cancel the current restrictions on Jewish worship at the site.
Judaism teaches that the Temple Mount is the holiest site on earth. The First and Second Temples once stood there.
It is currently home to the Al-Aqsa mosque, a fact that has led to friction as Muslim leaders accuse visiting Jews of planning to harm the mosque. Police have responded to Muslim violence by barring Jewish worship at the site, and restricting visiting hours.