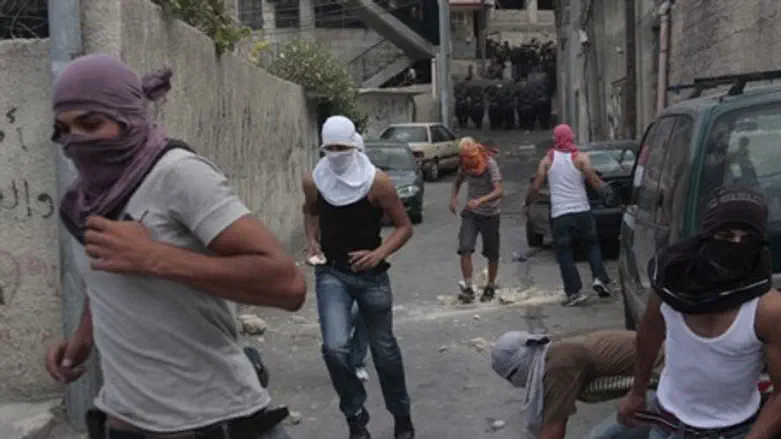 Arab mob attack in Jerusalem (file)
Israel news photo: Flash 90
"When was the last time your legs trembled in fear? When did you last stay awake all night, afraid someone would burn your house down? When was the last time you saw dozens of people who wanted to murder you?
"When was the last time you saw a police officer running away in fear, leaving you alone? When were you last almost lynched?" he asked.
There were the questions -- and the thoughts -- shared in a Facebook post by one of two Jewish victims hours after he and a friend narrowly escaped death at the hands of an Arab mob Tuesday night in a Jerusalem neighborhood.
Both in their 20s, the two young men live in the Beit Orot neighborhood of Israel's capital city. They were driving through Jerusalem's A-Tur neighborhood when their car was were suddenly hit by a barrage of rocks, smashing through the vehicle's windows.
The two men stopped to call police, and immediately were set upon by dozens of Arab youth and men who began hitting them mercilessly.
The Jews managed to flee to a nearby junction, where their attackers gave up on pursuing them.
It took more than 20 minutes before Israeli police arrived to assist the two victims, who were left standing there alone at the junction.
A friend of the two men expressed outrage. "This is going to end in murder," he warned.
"Everybody is worked up about 'price tag,' incidents but nobody gets worked up over firebombs, bombs, or the mob murder that almost just happened," he continued. "If they hadn't managed to run away," he said, "they would not be alive right now."