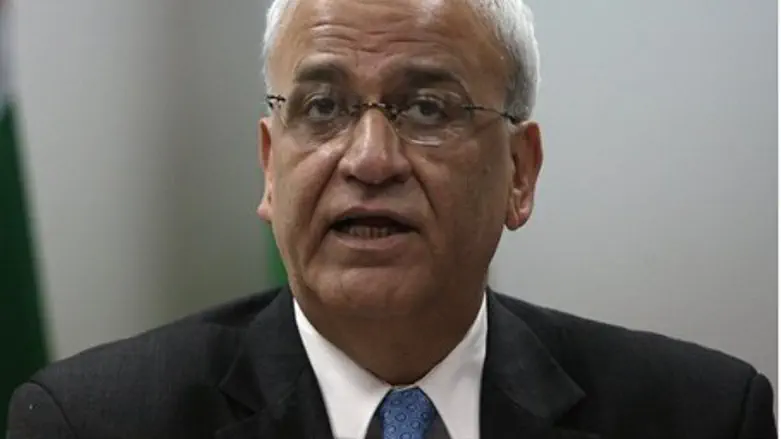 Saeb Erakat
AFP/File
The PLO's chief negotiator, Saeb Erekat, accused the Israeli government on Monday of officially having declared the death of the "two-state solution".
Erekat made the comments in a statement quoted by the Palestinian Authority-based WAFA news agency, hours after Economy Minister Naftali Bennett said that the idea of establishing a Palestinian state has reached a dead end and should be forsaken.
"Within the past few days, several high-ranking Israeli officials, from the ministries of Foreign Affairs, Defense, and Religious Affairs, have made clear statements regarding their position to actively work against the internationally endorsed two-state solution on the 1967 border," said Erekat, according to WAFA.
Last week, Deputy Defense Minister Danon spoke out against a two-state solution to solve the Israeli-Arab conflict, and said that if Prime Minister Binyamin Netanyahu brings the issue of a Palestinian state to a vote in the government, nobody will vote in favor.
Erekat charged in his statement that the recent remarks by Israeli officials "are not isolated events but a reaffirmation of political platforms and radical beliefs. Israel has officially declared the death of the two-state solution."
"Such statements are matched by policies that Prime Minister Binyamin Netanyahu is pushing on the ground, including aggressive settlement activity, home demolitions, evictions and revocations of residency right. This is part of Israel's plan to destroy any possibility for a Palestinian state, by annexing and changing the status quo of Jerusalem, the Jordan Valley and other vast areas of the Occupied State of Palestine," he charged.
Erekat continued, "The Israeli government is determined to make [U.S. Secretary of State John] Kerry's efforts fail. Netanyahu's empty calls for negotiations are exposed on the ground by Israel's destructive policies. The Israeli government is prepared to wage a public relations campaign, but it is not serious about peace. For the Israeli government plans to consolidate its occupation and negate Palestinian rights, Kerry's efforts are an obstacle rather than an opportunity."
He concluded by impressing upon the international community that "Israeli statements and actions are consistent and clear: Israel is declaring the end of the two-state solution. The international community's reaction should not be a call to 'resume negotiations;' it should be clear action in order to push Israel to implement previous agreements and adhere to international law. There is a new urgency to face reality and finally hold Israel accountable for destroying the prospects of justice and peace."
Erekat ignored the fact that for the past three years, Palestinian Authority Chairman Mahmoud Abbas has continued to impose preconditions on peace talks with the Jewish state, including a demand that Israel release terrorists who were jailed before 1993, freeze construction in Judea, Samaria and eastern Jerusalem and even present a map of the future Palestinian state before any negotiations take place.
Abbas has repeatedly ignored calls by Netanyahu to come to the negotiating table, the most recent one being last week when, during a visit to Poland, Netanyahu said that "it's time to stop negotiating about the negotiations."
Netanyahu distanced himself from Bennett's remarks on Monday, saying that "Foreign policy is shaped by the prime minister and my view is clear. I will seek a negotiated settlement where you'd have a demilitarized Palestinian state that recognizes the Jewish state."
Erekat recently accused Israel of applying a policy of apartheid in Judea, Samaria and eastern Jerusalem. PA leaders have long accused Israel of "apartheid" policies, even though they themselves have clarified that if a Palestinian state is ever established, no Israeli citizen will be allowed to set foot inside.