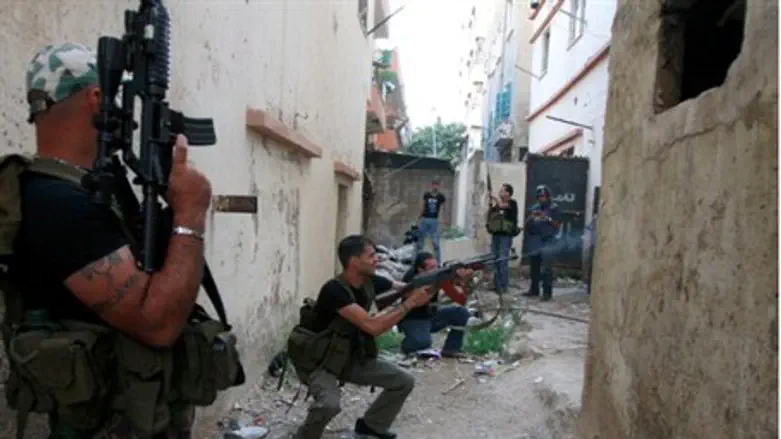 Fighting in Syria
Israel news photo: Flash 90
Iran is sending 4,000 new troops to help Syrian President Bashar al-Assad crush rebel forces in the country's ongoing civil war, The Independent reports.
Iran is "fully committed to preserving Assad's regime," Iranian sources told the paper. The sources confirmed that Iran has considered opening a front against Israel.
The report comes on the heels of the Obama administration's announcement that it will provide military aid to Syrian rebels.
The United States has been providing Syrian rebels with non-lethal assistance for some time, and is upgrading its support in light of a report finding that the Assad regime used chemical weapons.
The report in the Independent warned that the U.S. decision to arm rebels "has plunged America into the great Sunni-Shia conflict of the Islamic Middle East… the U.S. is now fully engaged on the side of armed groups which include the most extreme Sunni Islamist movements in the Middle East."
New involvement in Middle East conflicts will not turn out well for America, it predicted. "Every suicide bombing in Damascus – every war crime committed by the rebels – will be regarded in the region as Washington's responsibility."
Last week the head of a Dubai think tank reported that Syria's civil war has become a fight for Iranian power.
"The issue is hegemony in the region. If Iran wins this conflict and the Syrian regime survives, Iran's interventionist policy will become wider and its credibility will be enhanced," said Gulf Research Council director Mustafa Alani.
Hizbullah, too, responded to the U.S. plan to aid rebels by pledging its continuing support for Assad. The Lebanon-based Shi'ite Muslim terrorist group has played an active role in the Syrian civil war for several months, and has continued to do so despite Arab League condemnation.