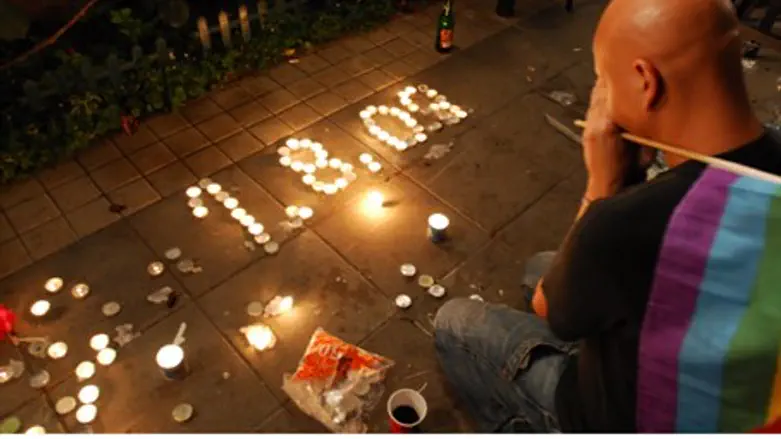 Man mourns Barnoar shooting victims
Israel news photo: Flash 90
A court has removed the gag order on the identity of the final suspect in the 2009 Barnoar murders. The suspect is Shaul Ganon, 49, the former director of the site.

Ganon is not believed to have taken part in the attack. Rather, he is alleged to have
committed a crime
which was the motive for the shooting at the gay and lesbian youth club.
He is accused of having sexually assaulted a 15-year-old in 2009. The youth told a his relative Hagai Felician, then a 19-year-old soldier, about the attack.

Felician and two others stand accused of having plotting Ganon's murder in revenge. Felician allegedly opened fire on innocent bystanders at Barnoar after failing to find Ganon at the site.

Two people were murdered in the attack, and two others were left paralyzed. 

Police are reportedly hoping to enlist Ganon as a state's witness against Felician. If he admits to sexual assault, his testimony could provide evidence of a clear motive in the crime.

Felician has
denied murder
. He claims that he conspired to blackmail Ganon, but did not plan physical assault and did not carry out the shooting.