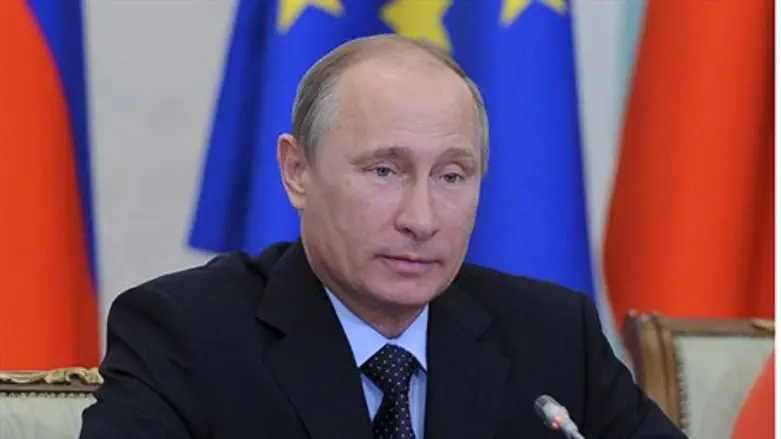 Russian President Vladimir Putin
Reuters
Russian President Vladimir Putin said on Tuesday that Iran maintains the right to a peaceful nuclear program.
While he denounced the regime's threats against the Jewish state as "unacceptable" he sought to justify the remarks by saying that  "Iran is in a very difficult region."
"And when we hear threats from Iran against its neighbors, particularly Israel, when we hear from Iran that Israel must be destroyed -- I think this is completely unacceptable," he said, referring to the persistent threats by Iran's outgoing President Mahmoud Ahmadinejad, who will stand down when his second term expires shortly after Friday's national election.
Putin continued to state his belief that Iran should not be "discriminated" against with demands for it to abandon its nuclear program, according to the AFP news agency.
Russia is a close trading partner with Iran and supplies the Islamic Republic with weapons and has built its first nuclear reactor near the Gulf city of Bushehr.
Israel and Western powers have long maintained that Iran's nuclear program is aimed at developing an atomic weapon that could be used against Israel.
Tehran on the other hand maintains that the program for nuclear energy and for medical research needs.
Ahmadinejad repeatedly demonizes the state of Israel and openly calls for its destruction at every opportunity. Most notoriously, he described Israel as a "fake regime" that "must be wiped off the map."
He termed Zionists "the most detested people in all humanity" and called the extermination of six million Jews during World War II "a myth," claiming that Jews have played up Nazi atrocities during the Holocaust in a bid to extort sympathy for Israel from European governments.